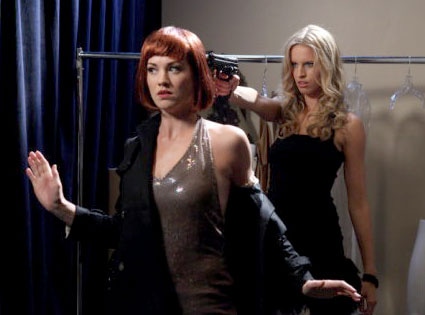 Dean Hendler/NBC
Chuck sure is pretty for a show about a Nerd Herd! Not only does it star Yvonne Strahovski, but supermodel Karolina Kurkova guests this week, and this photograph right here is your first look at the battle of the babes. We were on the set of Chuck for the filming of this ep, and Karolina herself filled us in on her villainous character:
Good news Sarah Walker fans! When Kurkova moves in on her man, Sarah doesn't take it lying down. As Karolina told us on the set, "I have to admit I got beat up by a girl. Yeah, that's what happened. See this is what happens when you hang out with girls. Girls beat you up."
So what goes down? According to Karolina, "We're gonna be in a fashion show, on a fashion runway. I throw her onto the runway and I start beating her up like seriously beating her up—there's a whole choreography. I'm gonna have a knife, and it's serious girl fight."
But wait, kids, there's more! Karolina's going to be nekkid too! Or at least semi-nekkid. She told us, "There's some sexy scenes. I'm not wearing much also. And there's some wet scenes."
"Chuck versus the Suitcase" airs Monday at 8 p.m. on NBC. Will you tune in for the scantily clad supermodel?
________
Follow @KristinDSantos and @JenniferArrow on Twitter for more Chuck scoop!