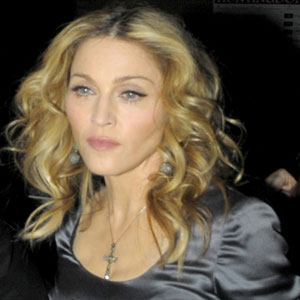 Smart Pictures/PacificCoastNews.com
Watch out, Madonna—this guy is crazy for you!
A former New York firefighter was arrested after getting a little to close to the Queen of Pop, the NYPD confirms to E! News. The man was hanging outside her Central Park West pad two times in four days and displaying signs to her reading, "I need you."
Robert Linhart, who had the message affixed to the top of his Toyota SUV, also had another reading, "Tell me yes or no. If it's yes, my dream will come true. If it's no, I will go. XXX."
The cops, not Madge, answered his question—arresting him outside the apartment at 3:08 p.m. yesterday and charging him with criminal weapons possession (a Leatherman tool and a pocket knife) as well as disorderly conduct, making graffiti, possessing a graffiti instrument and resisting arrest.
This wasn't Linhart's first offense.
He was also cuffed on Saturday outside the singer's place, charged with obstructing governmental administration, disorderly conduct, criminal mischief and resisting arrest.
Cops said a search of Linhart's car revealed a firefighters' uniform and a Paris tour guide. Linhart had retired from the FDNY in 1998.
This isn't Madge's first brush with a crazed fan, either.
In 1995, Robert Hoskins, a homeless man who believed he was married to the star, was arrested for stalking after he threatened to slice her throat.
Madonna had a difficult time testifying at Hoskins' trial the next year, saying that being in the same room with him made her "sick to my stomach."
He was sentenced to 10 years in prison.
No word on the Material Girl's emotional state. She is due at a Macy's event with daughter Lourdes later this afternoon to promote their Material Girl clothing line.