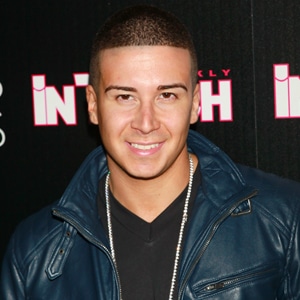 David Livingston/Getty Images
We already told you that JWoww is getting ready to strip for Playboy, but now comes word that another Jersey Shore star has the chance to make some cash for his private parts, too.
What?!
Read on for the NSFW details…
Playgirl has apparently offered Vinny $30,000 to make a cast of his manhood so they can reproduce it as a sex toy.
Guess Snooki was on to something when she told us the other day that Vinny should "get a mold of his penis and sell it to everyone." For those not in the Jersey Shore know, Snooki has made no secret about how well-endowed she thinks Vinny is after they hooked up during the making of season two.
A rep for Playgirl says the reality star would simply cast himself with the company's Clone-A-Willy, an at-home kit used to make replicas out of rubber, soap, wax and even chocolate.
Considering Vinny has already nixed any possibility of posing for Playgirl, we can't imagine he's up for marketing his manhood.
Even so, let the sausage jokes begin.
What do you think? Should Vinny do it or should he keep his fly up? Sound off below.
________
 Speaking of stars getting naked, have taken a good look at our Celebrity Skin photo gallery?