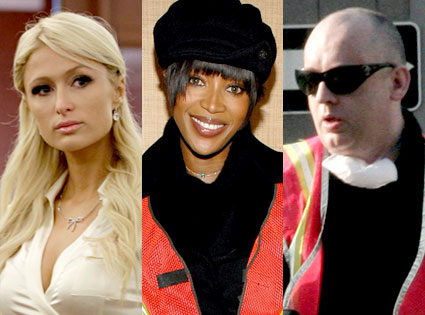 AP Photo/Julie Jacobson; Kevin Mazur/WireImage.com; Fame
Now that Paris Hilton has agreed to community service over that cocaine arrest, tell me where I can see her in an orange jumpsuit picking up trash.
—Patrice, via the inbox
If you simply must see underfed narcissists in neonwear, you should know that Naomi Campbell pioneered that look in 2007. Campbell looked ferocious in her community service getup, which she donned as part of a sentence for an assault case.
Can Paris top that? No. I think not. In fact, don't be shocked if...
Miss Hilton avoids any and all tacky garb when she finally starts her community service. For it seems that Hilton will probably get a very cushy 200 hours of work.
According to judge Joe Bonaventure, who agreed to Hilton's cocaine plea deal, the celebutante can do her work with "any non-profit"—and it doesn't even have to be in Las Vegas, where Hilton was busted in the first place.
What "non-profit" might that be?
Hilton's attorney, David Chesnoff, has said Hilton will "continue the charity work" she is already doing, though it isn't clear whether he meant in addition to Hilton's community service; he didn't return a call seeking clarification. (In the recent past, Hilton has volunteered with sick kids via the Starlight Foundation and launched an initiative for the USO—you know, support the troops and all this.)
Whatever happens, don't expect Hilton to suffer overmuch.
"The chances are zero that she's going to be in a jumpsuit or even a vest," defense attorney Peter Berlin tells me. "We're talking maybe a food bank, a homeless shelter, something like that."
Or maybe she'll just talk. Seriously.
Sure, Chris Brown had to do hard labor as part of his Rihanna-bashing plea deal, and Boy George had to pick up trash. But as part of his community service stemming from weapons charges, T.I. spoke out against bullying at an elementary school earlier this year.
"It wouldn't be a bad idea for Paris's attorney to negotiate something similar to that," says Salvatore Strazzullo, an attorney who represented Foxy Brown, tells me. "It's better than scrubbing toilet bowls, right?"
The only hardship Hilton might deal with? No shortcuts.
"I assume if she does it at a legitimate place then yes, she would do all 200 hours," Berlin assures.
But don't give up hope. Give her a Tweet and request that she wear something neon on her way to her charity work.
—Additional reporting by Claudia Rosenbaum