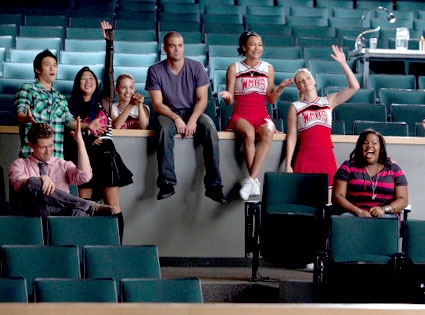 Adam Rose/FOX
It's here, TV fans! The new fall television season begins tonight, and we're kicking off the party with a big, juicy spoiler chat full of scoop about your favorite TV shows. Want dish on House, Fringe, Chuck, How I Met Your Mother and many more? Click in!
Melody: The Glee premiere is tomorrow! Spill!
Chord Overstreet is dreamy as the new football player Sam Evans (Sam and Dianna Agron's Quinn are going to make gorgeous blond babies together!); there's an unholy alliance between Sue and Will; and the Lea Michele-Charice diva-off is not to be missed! Oh, and Ken Tanaka had a nervous breakdown, while Matt (aka copresident of the background dancers union) transferred, Brittany's blank-faced one-liners are better than ever, and we absolutely love the backstory on Tina's hookup with Mike Chang. It's a great season premiere. You guys will love.
Jaqueline in Athens, Ga.: What's the 411 on Kristin Chenoweth's return to Glee?
April Rhodes is on her way back to McKinley High and a little birdie we like to call Kristin Chenoweth tells us we're in for a nearly nude treat! "I'm going back in two weeks to do Glee. I did hear April will be stripping and it made me nervous—made me not want to eat." Just don't expect any smooth moves on the stripper pole. Says Kristin: "I'm not going to practice it either because I don't think April would know how!" 
Parker: Stop skimping on the Chuck and Blair Gossip Girl info!
Except for the fact that they're seeing other people and they're trying to pretend they're over each other, the Chuck and Blair scene that ends tonight's episode is perfect. Don't worry about that French girl too much, OK, Chair fans? There's no way she could ever compete with Chuck's love for Blair. Waldorf and Bass are epic, eternal and sure to reunite again one of these days.
James in Virginia: What can you tell me about Fringe?
Fringe is usually one of the chillier shows on TV, but by the end of Thursday's season premiere, little girl lost Olivia (Anna Torv) gets a heartwarming reunion that will melt even the grouchiest sci-fi fan's ice-clad heart. Of course, the specific circumstances of the reunion also mean that Olivia is more lost than ever. That girl can't get a break!
Adele in Florida: Please tell me it's true that House and Cuddy are sticking together this season!
Oh, it's true. House executive producer Katie Jacobs tells us so, and she also told us to look for a wedding-centric episode later this season. No, it's not House and Cuddy getting married (just a hospital poobah peripheral to the story), but the circumstances of preparing for the wedding are going to make for a very romance-centric episode, wherein everyone in a relationship starts to look more closely at who they're with and why.
Terri in Washington, D.C: Am I right that Julia Stiles plays Dex's girlfriend or Harrison's nanny on Dexter this season?
Two strikes! (1) Exec producer Sara Colleton told us most emphatically, "God no! No no no no no no. It's way too soon" for Dexter to be thinking of romance. (2) Dexter does hire a nanny—a virtual Mary Poppins who seems almost too good to be true. (We're keeping our eyes on that lovely Brit.) When an almost unrecognizable Julia Stiles does finally appear at the very end of the Oct. 10 episode, we realize why Colleton refers to her character as "damaged." So, so, so very damaged.
Jude in Overland Park, Kan.: Poor Deb has the worst luck in boyfriends on Dexter. Will her track record improve this season?
Signs point to yes! Who's Deb's (Jennifer Carpenter) lucky guy? Let's just say Batista (David Zayas) and LaGuerta (Lauren Velez) aren't Dexter's only interoffice romance this season. Hmmm....Could Masuka's (C.S. Lee) dreams finally be coming true? You'll have to watch to find out! Meanwhile, married couple Batista and LaGuerta could become separated—by prison bars!
Elle in Oregon: So excited for The Big Bang Theory's move to the big-time, aka Thursdays! Got any scoop?
The season premiere centers on a threesome between Sheldon, Amy and Penny. OK, not a sex threesome, exactly, but Penny does chaperone the nerds on their first date, during which Sheldon genially calculates Penny's slut quotient. Meanwhile, Mayim Bialik continues to be hilarious and perfect as Sheldon's lady friend Amy.
Patty in Boulder, Colo.: There's only one thing I care about this fall, and that's Chuck. Please tell me Chuck and Sarah are finally just happy together.
Oh yeah, they're happy all right. Happy and cohabiting and—sexting! You know, sexy texting? (90210 did a whole episode about it last season, you might recall.) OK, confession time: Yes there is lots of sexting going on, but Morgan (Joshua Gomez) is responsible for most of it. (Promise you'll understand what that means after you watch tonight's premiere.) Thankfully, Chuck and Sarah really do seem happy together, and more lovey-dovey than ever.
Delia in Maine: I need Bones news!
(1) Emily Deschanel's new bangs are sooo cute! (2) If you missed Hodgela as much as we have, you have got to tune in. Their joy at being prospective parents is palpable and adorable. (3) B&B fans should keep their eyes peeled for the look on Brennan's face just before they take down the bad guy, because there's never been clearer visual evidence that she loves Booth like crazy.
Charlie in Sparta, Michigan: Can we hear some more Sons of Anarchy scoop? But not about Jax, Tara or Gemma. I want to hear more about the others.
Even though it's only been a few months since Donna's death in the timeline of the show, Opie (Ryan Hurst) seems to be growing closer and closer to Lyla (Winter Ave Zoli). Look for some serious stuff with them on Tuesday night.
Liam in Smithtown, N.Y.: What's coming up for Bonnie on The Vampire Diaries? Will she continue to feel guilty after forcing Damon to give Caroline his blood?
Definitely…but only to a point. Katerina Graham recently told us: "This is somebody who you love and you're putting pressure on other people to help you out to protect someone else. There's guilt with the whole process." However, Mystic Falls' resident witch still feels the vampires are ultimately to blame...for everything that's ever happened in the entire world. Or something like that. "It's still their fault that this happened in the first place. At the end of the day, if the vampires didn't come to town, this wouldn't be a problem." We think Damon said it best: "Witches, judgy little things."
Jordan in Prescott, Ariz.: Tell us more about Castle!
What about a—gasp!—Lanie-Castle hookup?! We'll let Tamala Jones elaborate: "I get to interact with Castle a lot more, which I love," Tamala tells us. "We're getting closer, but you don't know what it is. It could be, 'Does Castle like Lanie?' 'Does Lanie like Castle?' And it leads you in some different areas. But you know Lanie likes Esposito, and Esposito likes Lanie—still, what's this Lanie/Castle thing?" Dun-dun-dun!
Michelle in Miami: I'm kind of shocked by how much I liked Hellcats. Any chance we'll be seeing Dan and Savannah hookup?
We're happy to report that you can expect the pretty pair to start dating very soon. Ashley Tisdale tells us, "At first it's like really weird. You're like, Oh, why are they getting together? But then I think throughout each episode you're like, Oh, I get it!" And what romance is complete without a little drama? The Tiz says Savannah's extremely religious upbringing will lead to some (non?)sexual tension. "She's very Christian and so is her family, so she's not used to dating outside of the church. This is a whole new experience with a boyfriend who isn't that religious."
Sandra in Poughkeepsie, N.Y.: When are we going to see this big wedding of Brooke's on One Tree Hill?
That all depends on what the CW Powers That Be decide about picking up One Tree Hill's back nine episodes. If the current 13-episode order stays as is, we'll see a Brulian wedding around episode 11 or 12 (Mark Schwahn tells us it definitely won't happen in the final ep). And if OTH fans are blessed with a full season (fingers crossed), Brooke's nuptials might be pushed back a bit, but still midseason. So start marking those calendars now—in pencil, of course.
Wendee in Beaumont, Calif.: Something on Smallville would really make my day.
Smallville's final season premiere starts just a few seconds after last season's finale, and Clark's 10th season adventures continue on from that point. It's going to be a struggle for the someday superhero, but with help from his dad Jonathan Kent (oh yes, he's back in full force), Clark will eventually make peace with things and be the good guy we all know and love. And Lois is going to start keeping some secrets of her own—starting with not telling Clark she knows who he really is. Hey, someone's gotta look after his well-being, right?
Kirstin in Sykesville, Md.: Please, please, please tell me we're going to see Math get some love on Life Unexpected this season. It's long overdue!
We're right there with ya, and lucky for everyone involved (Austin Basis included!), so is Life Unexpected's awesome show runner gal Liz Tigelaar. "Math always takes Baze's like sloppy seconds, but he wants to be seen as his own person," Liz tells us. "We definitely have him interested in different people and we'll definitely do a story about it. I want to give Math his relationship!" Start your casting call in the comments.
Jordan Strauss/WireImage.com
Jessie in Michigan: Anything you can spill on How I Met Your Mother's Robin Sparkles reboot would be amazing!
We just ran into little ole Cobie Smulders (a chick we absolutely adore and are totally girl-crushing on!), and she told us of her next Robin Sparkles episode: "It's some kind of 80's variety show with Alan Thicke, and all those ingredients create a recipe that could be genius. It's powerful stuff," Cobie teased.
Kevin in New York: Any scoop on The Mentalist's Amanda Righetti?
"We are going to see Jane [Simon Baker] becoming more obsessed with Red John, and we do actually get closer to Red John," says Righetti. "And Grace gets a love interest this year, so that's exciting. It's Eric Winter." So romance with Rigsby is on the back burner for the time being. Sniff.
Bethany in New Orleans: Rules of Engagement is my favorite show. Could you do a girl a solid and share something about the new season?
"[Adam and Jennifer] are not getting married; it's not gonna happen," Oliver Hudson tells us. "And there could be a separation." Laughs his onscreen gal Bianca Kajlich: "We're hoping there's a separation, actually." 
Jamie: So excited that Parenthood is back! Any scoop?
Kevin Alejandro brings his usual hotness to the table in a courtship of Lauren Graham's Sarah Braverman! Oh, and one of the four Braverman kids is working on bringing another kid into the world. Gasp! Care to guess who? Hit the comments!
Chris in Phoenix: I don't care what the haters say, Rubicon is the smartest show on TV right now. Any scoop on the final episodes?
Couldn't agree more—Rubicon is like gourmet TV! Coming up, Will (James Badge Dale) and Katherine Rhumor (Miranda Richardson) join forces—until that nasty Donald Bloom shows them just how unlucky four-leaf clovers can be. And enigmatic Kale (Arliss Howard), one of TV's most delicious characters, shows he's really one of the good guys. Aw.
—Reporting by Jennifer Arrow, Tierney Bricker, Megan Masters, Drusilla Moorhouse & Jenna Mullins
(Originally published Sept. 20, 2010, at 4:16 p.m. PT)