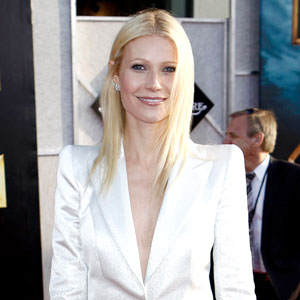 As if the highly anticipated return of Fox's Glee tomorrow night weren't giddy-good enough, I can now confirm to you this fantastic casting news: Gwyneth Paltrow is in discussions to come on the show!
She's going to sing. And dance. And many of you fans are going to completely freak out when you hear who she might be playing:
Gwyneth will be a love interest of sorts for Matthew Morrison's character, Will Schuester.
According to rock-solid Glee sources, Gwyneth would play a substitute teacher in two episodes airing in November. Mr. Schuester gets sick, so Gwyneth's character steps in and takes over the glee club. The kids love her, and Will starts to fall for her...complicating his relationship with Emma (Jayma Mays).
(We'll pause while you diehard Will and Emma fans breathe into a paper bag.)
I'm told Glee creator/executive producer/creative badass Ryan Murphy wrote this role expressly for Gwyneth, as the two are friends. If it all comes together, Ryan will be directing her first episode, which begins shooting in two weeks.
Gwyneth also sings in a movie called Country Strong, which opens in December and is already garnering strong Oscar buzz. And of course, she's no stranger to the Academy Awards, having already won one, along with that other Glee guest star who is in the works: Javier Bardem.
Hear that? It's the sound of Sue Sylvester body-slamming a student into a locker upon hearing that someone more famous than her might be coming to McKinley High. Of course, everyone else has good cause to celebrate with some serious jazz hands, 'cause Glee's second season just keeps sounding better and better. I've seen tomorrow night's premiere episode and can tell you it does not disappoint.
Anyone else looking forward to Glee's return? And what do you think about Gwyneth sharing some screen time with Matthew? Jayma, girl, time to take off your earrings...
________
For more fabulous Glee scoop like the Gwyneth goodness above, follow @KristinDSantos on Twitter.