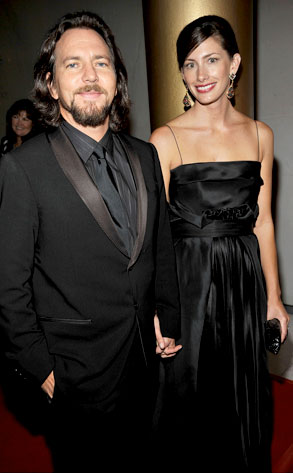 Kevin Mazur/Getty Images
Eddie Vedder has gone from grunge to groom.
The Pearl Jam frontman tied the knot with longtime girlfriend Jill McCormick in Hawaii on Saturday in a ceremony attended by the likes of Sean Penn (who featured Vedder's music on the Golden Globe-winning Into the Wild soundtrack) and easy-going rocker Jack Johnson.
The 45-year-old Vedder got engaged to the 32-year-old model in December of last year while the two were in Washington, D.C., for the Kennedy Center Honors gala, where Vedder offered a stirring tribute to honoree Bruce Springsteen. The pair have two daughters, 6-year-old Olivia and Harper Moon, who turns 2 on Thursday.
It's the second matrimonial go-around for Vedder, who was previously hitched to Hovercraft cofounder Beth Liebling from 1994 to 2000.