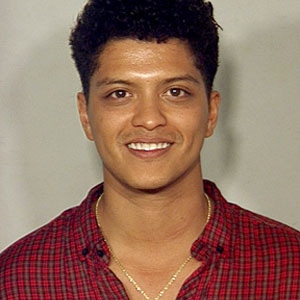 Las Vegas Police Dept.
What happens in Vegas...sometimes ends up in the news.
Case in point: singer Bruno Mars was arrested on suspicion of narcotics possession Sunday.
The "Just the Way You Are" crooner—who has cowritten hits for B.o.B., Travie McCoy and Flo Rida—was first caught by Hard Rock Hotel security officials, who reportedly confronted him in a bathroom and found him with narcotics.
Las Vegas Metropolitan Police officers arrived to the hotel at approximately 1:50 a.m. after receiving a call from security that a Latin male adult was being detained.
Police confirmed that the man was Bruno Mars, aka Peter Hernandez, and that he was in possessino of 2.6 grams of a "white powdery substance" believed to be cocaine.
He was transported to the Clark County Detention Center, where he was booked on possession and ultimately released on his own recognizance at roughly 7:45 a.m.
Prior to the incident, Mars had performed at the hotel Saturday night, even tweeting: "Come See Me @ the Hard Rock 2nite!! VEGAS!!"
Mars is currently slated to perform upcoming dates with Maroon 5, One Republic and McCoy.
(Originally published on Sept. 19, 2010 at 9:55 p.m. PT)
_______
Check out more celebrity court appearances in our gallery.