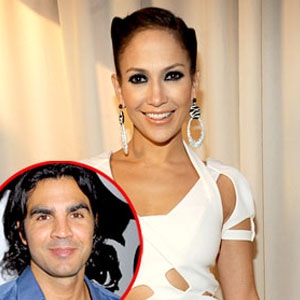 Kevin Mazur/AMA 2009/Getty Images; Barry King/Getty Images
American Idol auditions and humiliation tend to go hand in eardrum-crushing hand. But Jennifer Lopez's ex is readying for a dignity-defying feat that may put even William Hung to shame.
Not to mention make for the most awkward three minutes of television ever. If it ever gets that far.
"Ojani Noa will be in line at the Forum on Sept. 22 to try out for American Idol in front of his ex-wife Jennifer Lopez," Noa's manager, Ed Meyer, told E! News.
Pathetic? Yes. Blatantly fame-whoring? Of course. In other words, you-know-who has finally found a natural successor.
Adding to the pitiable plan is the fact that Noa, at 36, isn't even eligible to be the American Idol, as the upper age limit for the contest is 28. But that didn't stop General Larry Platt, and it apparently won't stop Lopez's ex-hubby, with whom, incidentally, she remains embroiled in quite the nasty legal battle.
So, what excuse has Camp Noa offered up as justification for the stunt?
"He escaped Cuba and married Jennifer Lopez, now he wants to be the American Idol," Meyer said. "Of course, he will sing a Jennifer Lopez song."
Funny how Noa's dream of becoming the new Idol didn't materialize until after Lopez was confirmed as the new $12 million judge.
Still, he shouldn't do too much prepping for his close-up. The guy who threw water on Simon's head has a better chance of making it on camera.
Though it might be a nice change of pace to feature a contestant who's taking as much advantage of the show as it seems to take in its contestants.