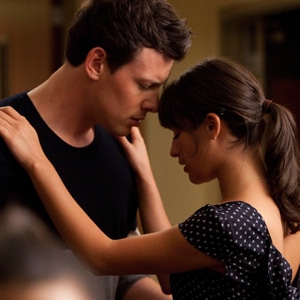 Adam Rose/FOX
Glee is back! Fox's amazing hit musical-comedy series premieres Tuesday night at 8 p.m., and to celebrate the return, we got you guys an exclusive video clip.
And we didn't skimp on the content either...
Yes, Finnchel fans, this is the moment you've all been waiting for. Lea Michele and Cory Monteith share their summer lovin' with the rest of McKinley High, as video blogger Jacob (Josh Sussman) launches the new season of the show with a hilarious report on what's changed for our fave glee clubbers over the summer:
Just wait until you guys see Jacob's whole account. If you've ever read a news report online about Glee, you'll find the entire thing very smart, very meta and very funny.
OK, Gleeks, now that you've got your Finnchel coupledom, what else are you looking forward to this season? Tell us in the comments!
________
Click through our Fashion Spotlight gallery to see what Lea, Dianna and the rest of the Glee gals are wearing on the red carpet.