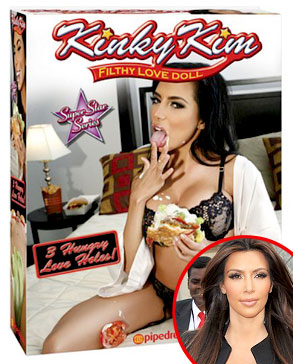 Pipedream; Pascal Le Segretain/Getty Images
Kim Kardashian obviously doesn't have much love for the Kinky Kim Filthy Love Doll.
The E! reality star has directed her legal eagle, Shawn Chapman Holley (aka Lindsay Lohan's lawyer), to shoot off a sternly worded cease-and-desist letter to Pipedream Products, demanding the company stop production on the sex toy.
In the letter, Holley insists the use of Kim's likeness on the doll "constitutes a violation of her right of publicity," adding that her client won't hesitate to sue if Pipedream continues to use the image for its own commercial gain.
Let's just hope this whole matter simply blows over sooner than later.