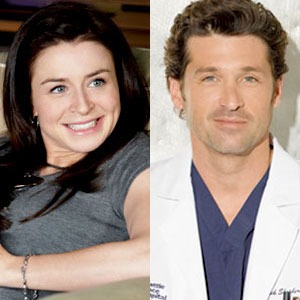 ABC/ADAM TAYLOR; ABC/BOB D'AMICO
Crossovers are always a treat, but mix-n-match Grey's Anatomy and Private Practice, and you've got what the world's greatest boss Michael Scott would call a win-win-win!
We just chatted up P.P.'s brilliant new neurosurgeon Caterina Scorsone, and she spilled all sorts of fun facts on the latest crossover—including an emotional reunion between estranged siblings Amelia Shepherd and her Grey's big bro McDreamy Derek (Patrick Dempsey)...
Blame Addison!
No, really—according to Caterina that's exactly how this whole thing comes to be. "Basically Addison kicks her in the keester," the starlet laughs. "Amelia is kicking and screaming and doing everything she can do to avoid the inevitable, but Addison somehow convinces her that she's gotta go to Seattle." So...blame Addison. Or rather, thank her.
"[Derek and Amelia] have been at an impasse for years after their father's tragedy," Caterina explains of the feuding family. Yes, the two are taking baby steps to repair the damage during the crossover, but it's not going to be pretty. Adds Caterina: "She has some pretty bad behavior and Derek's got his quirks as well. I'm not going to give Amelia all the blame, but there is definitely some cathartic movement in that relationship."
The episode is also a treat for longtime fans of Grey's, providing some long overdue insight into the man who still melts our hearts.
"You find out a lot about Derek," Scorsone promises. "That's one of the things that'll be interesting for a lot of people who have been watching the show for years, myself included. You really get to find out about that tragedy that's colored both of our lives ever since. We were young when we witnessed our father's murder, and so fans really get to learn about that."
"Amelia is pretty focused on Derek and trying to mend that relationship," she tells us. "And I'm really happy with how it all went."
The big crossover event is still a few months away, but be sure to catch Caterina on Thursday's Private Practice premiere at 10 p.m. on ABC, following a brand-new Grey's Anatomy at 9 p.m. Both are must-sees!
________
Follow @kristindsantos and the rest of Team WWK on Twitter for more on returning fall faves: @jenniferarrow @megmasters @drumoorhouse