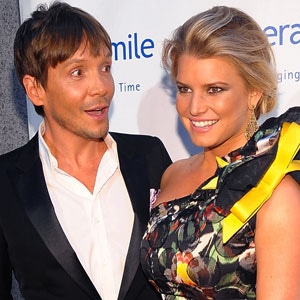 Jamie McCarthy/WireImage
Jessica Simpson's main- and mane- man Ken Paves knows all about, uh, splits and ends, but we never thought these two would part.
However, according to a source close to the singer, the hitherto constant companions are "over." The suddenly former BFFs, almost inseparable over the years, had some problems over the summer, with Paves no longer speaking to Simpson over "something petty."
"They've had a major fight," the Simpson insider tells E! News. "Jessica's devastated over it, she loves Ken. He just won't speak to her at all."
Simpson tried to make amends, even inviting Paves along to her 30th birthday party in Capri in July, where she brought along her family, girlfriends and new boyfriend Eric Johnson for a relaxing getaway.
Paves, who was always Jessica's shoulder to cry on though her many loves and losses, turned her down. 
"She was so upset," says the source. 
Along with some other drama, Jessica is said to be upset that Ken has been tweeting his love for his other galpal, Eva Longoria, calling her his "best friend."
"Jessica was heartbroken, they were so close.  Maybe one of them will come around," the source says.
Paves and Simpson, who even collaborated a line of clip-on hair extensions called Hairdo, haven't been snapped shopping or dining together in months, but maybe Paves is softening, reaching out over Twitter, saying sorry for the loss of Jessica's beloved pooch, Daisy in early Sept..
But on Sept. 12, Ken tweeted that he loved his friends, and did not include Jessica in those he mentioned. 
Still, there's hope these two kids could work it out. Although Paves did not attend her denim debut at Fashion Week in New York, he did send her a tweet reading, "@JessicaSimpson have an amazing show!! Strut your stuff ladies!"
And he insists there's no rift between the two, telling E! News he's been unable to travel to see her because of projects.
"Jessica and I are definitely still friends. Jess is very supportive of my other relationships as I am of hers! The truth is we have both been busy and on different schedules," he says. "I know Jessica is very excited for me! I've brought her dad Joe on to manage these projects. It's all in the family! We are all definitely still friends..."
The old "scheduling-conflicts" card, huh? We'll just have to wait and see how that plays.
Simpson's rep did not immediately comment.