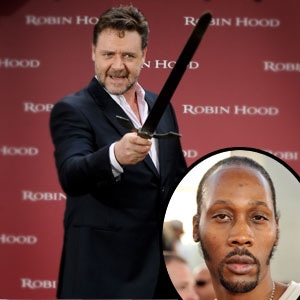 Carlos Alvarez/Getty Images; Kevin Winter/Getty Images
Russell Crowe is going to be kung fu fighting...with a hip-hop star!
Read on for my exclusive scoop about the Oscar-winner's new movie gig...
Hip-hop artist and actor RZA tells me that Crowe has signed on to costar with him in The Man With the Iron Fist, a kung fu flick the Wu-Tang Clan founder is also directing.
RZA will play a weapons-making village blacksmith in feudal China—and as for Crowe, RZA doesn't want to say too much.
"I won't spoil it for you, but Russell's gonna be the baddest man alive," he told me yesterday at the VMAs. "That man is in fighting shape. That man will knock you out."
The Man With the Iron Fist (no relation to the Marvel Comic superhero Iron Fist) starts shooting in Shanghai in December. "It's nerve-wracking," RZA said of directing Crowe. "He's a master of the craft. I'm quite sure that I may learn something from him."
Crowe and RZA worked together three years ago in Ridley Scott's American Gangster. They even recorded a song together, but Gangster producers decided not to include it on the movie's soundtrack. Both are also in the upcoming The Next Three Days from director Paul Haggis.
The Wu-Tang Clan founder began developing the project about five years ago with the help of Quentin Tarantino and director/actor Eli Roth, the latter now a cowriter and coproducer of the flick.
Universal reportedly green lighted Iron Fist in May with a $20 million budget.
________
Check out our Casting Couch photo gallery for more hot movie news.