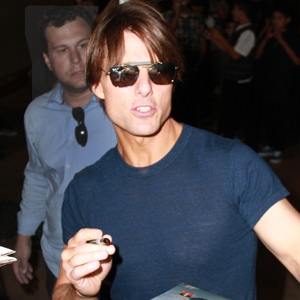 Greg Tidwell; PacificCoastNews.com
Another football star has been felled by a concussion.
Apparently Tom Cruise made a wrong move while filming All the Right Moves back in the day. The megastar revealed over the weekend that he'd never make a sequel to the 1983 football flick because suffered a scary head injury during the grueling shoot.
Cruise was in New York to support wife Katie Holmes at the premiere party of her new movie The Romantics at the Gansevoort Park Hotel last week, where was overheard telling LateNet host and comic Ray Ellin about his injury after Ellin begged Cruise to do a follow-up to the movie. 
"I asked him if he'd do another, and he laughed and told me, 'No way, I got a concussion during that movie,' " Ellin explained to E! News. "He said his most physically demanding role was The Last Samurai and that he precision trained for five hours a day seven days a week for an entire year."
When Ellin suggested that Cruise could "play a coach," Cruise retorted, "No more football movies. Those guys were real players, they hit hard." 
Later in the night, Cruise wandered up to the rooftop, which overlooks the city, and chatted up some other partygoers.
"He yelled, 'This is New York! This is what it's all about!' " said one guest, who chatted up Cruise. "He was very happy and enthusiastic and threw his hands up towards the skyline. He was so friendly, he approached us up there. Katie was off doing her thing and his kids were looking around the roof. He was just in jeans and a white untucked shirt and walked over and said, 'Hey guys, what's up? I'm Tom,' and shook everyone's hand."
Among the guests he introduced himself to were fashion expert Carson Cressley and Howard Stern's wife, Beth Ostrosky Stern, who said afterwards she was "smitten" with Cruise and his charming ways.