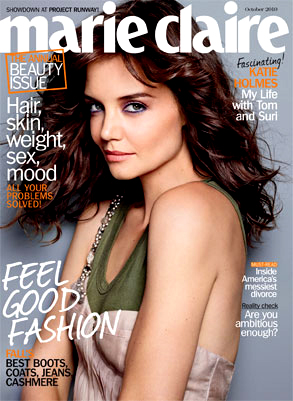 Marie Claire
There's only room for one little fashionista in the Holmes-Cruise household.
In the October issue of Marie Claire, Katie Holmes says she and hubby Tom Cruise aren't ready to add to their brood yet. "Maybe in a couple of years, but right now I want to make sure I'm really there for Suri," the doting mom dishes.
"I'm the youngest in my family," she explains. "My closest sister is five years older than me, and the next one is nine years ahead of me, so I was a bit of an only child, and I liked it! I liked having all of my mom's attention, and sometimes I think I still do."
Guess Suri will have to rule the world all by herself for now.