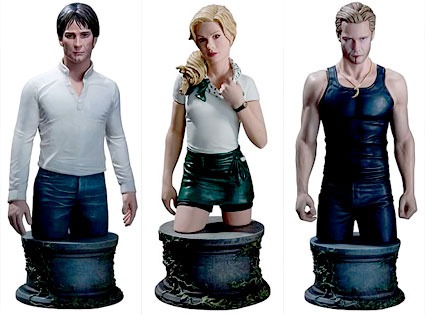 DC Unlimited
Who said toys were just for kids?
Especially since the newest addition to the world of playthings is none other than figurines of the vamp bad boys and fang-bangin' babe of True Blood. Life & Style showed off the new statues of Bill (Stephen Moyer), Eric (Alexander Skarsgård), and Sookie (Anna Paquin) and we think they're absolutely hilarious.
Hilariously bad, or LOL-worthy amazing is the real question though:
And we say why not both?
The figures—as with most, no doubt—don't exactly capture the sex appeal of the hump-happy characters, especially poor Bill who looks like a rejected member of a '90s boy band. But think of it this way: Can you just imagine what kind of naughty scenarios you could act out with these dolls that even Alan Ball hasn't already shown on the series?
Plus, at least bulked-up Eric (btw, how many of you noticed how toned and abtastic he got for his guy-on-guy debut?) earned some plastic muscles to match his real-life biceps, unlike that lame ass Prince of Persia Lego of Jake Gyllenhaal (which, admittedly, one member of Team Awful has on his key chain).
But what do you think: Will you be purchasing your very own doll that you can come home and say "Sookeh" to, or are these better suited for the bargain bin (until there's one with Joe Manganiello's amazing six-pack, that is)?
Awful's Barbie Gone Bad Poll