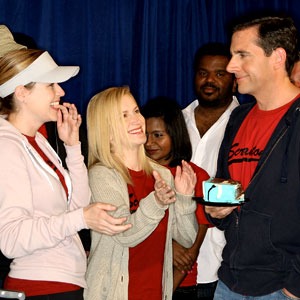 Frederick M. Brown/Getty Images
Office boss Paul Lieberstein promises us fans that Steve Carell's seriously sad departure from The Office is not the beginning of the end for the Dunder Mifflin empire.
In fact, the producers behind NBC's hit comedy have all sorts of goodness planned before, during and after Michael Scott says goodbye, including (perhaps) a big-screen adventure.
Here's what Lieberstein revealed to us about the show's future and The Office: The Movie:
"There's been no talk at any point of The Office ending," Paul tells us exclusively. Turns out, the only folks talking about any such thing are reporters covering the show—ya hear that, fellow media hounds?
In fact, the show's still going so strong that we might even see an Office flick a few years down the line. How awesome would that be?
"Maybe when the series is done we'd do an Office movie. I'd be up for that," Paul teases. "But they're all such big movie stars now, I don't know if we could afford them on set." (We can see it now—Ryan and Kelly are finally getting hitched, and Michael Scott returns to try and give away another bride. It's perfect!)
Paul also urges fans to stick with The Office post-Steve Carell, promising the future is bright for the show.
"This will definitely change the dynamic [of the show]," he explains. "And we can't just replace Steve because I think that would lead to failure. We have to do something different. This show is really about office life, which so many people live. And changing it up a little will be welcome to the fans. Steve feels he's played almost everything he can with Michael Scott. There isn't a lot of new territory for him to discover. And if he's feeling that, fans must be, at a certain level, feeling that too—it's an opportunity to reinvent The Office."
And we can't wait to see The Office reinvention in action!