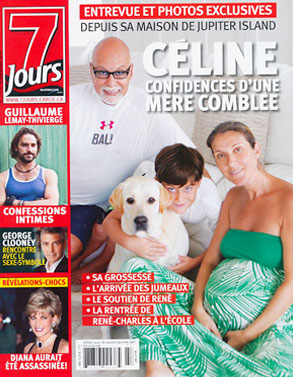 7 Jours
Is it just us, or do the words neener, neener, neener come to mind?
Just in case Céline Dion didn't silence the rumormongers enough this week when her rep denied reports she had been hospitalized with pregnancy complications, the singer has put the final nail in the gossipy coffin by appearing, healthy baby bump and all, on the cover of Canada's 7 Jours magazine.
The 42-year-old is expecting twin boys this November with hubby René Angelil, who, along with son René-Charles and the family dog Charlie also posed for their closeup.
Good luck in the home stretch, Céline!