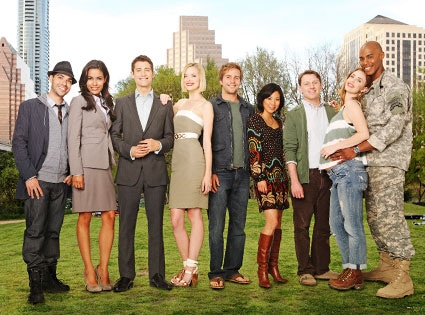 Craig Sjodin/ABC
The Office did it. Modern Family did it. So why not make a new drama series that is fully centered around the documentary format, catching up with high schoolers 10 years after they graduated? Sounds genius, right?
Well...um, maybe.
Welcome to the most controversial new series of the TV season, which is bound to spark an intense debate among viewers...
My Generation (ABC)
Premieres: Thurs, Sept. 23, 8-9 p.m.
Competition: The Vampire Diaries (CW), The Big Bang Theory (CBS), $#*! My Dad Says (CBS), Bones (Fox), Community (NBC), 30 Rock (NBC)
Cast: Michael Stahl-David, Jaime King, Keir O'Donnell, Sebastian Sozzi, Anne Son, Kelli Garner, Mehcad Brooks, Daniella Alonso, Julian Morris, Elizabeth Keener
Status: We've seen the pilot.
Some of us liked it. Some of us haaaated it. That's what you need to know about the internal debate here at E! Online among those who have seen My Generation. And at the risk of starting another hair-pulling, name-calling (not really, but it did get ugly), um, conversation in these here offices, here is what we can share.
This modern-day docudrama centers on nine very different kids—the jock, the cheerleader, the geek, etc.—from the class of 2000 who kept video diaries of sorts throughout their senior year of high school. Now 10 years later, the documentary crew is checking back in with the gang. Even though most weren't even friends back then, they are miraculously connected somehow a decade later. And so the story goes.
The fact that My Generation's premiere episode wants to be so many things (young, hip, socially conscious, ironic...the list goes on!) makes it either extremely unique or a convoluted mess, depending on your TV taste. The real test of course will come with the second and third episodes, when all the exposition is behind us.
The big question surrounding My Generation is whether the awkward documentary format that works so well for the likes of  Steve Carell or Ty Burrell (getting "caught" by the camera, putting up a front for the audience, etc.) can work for a soapy drama in which we need to truly believe the depth of the characters.
One thing we all agree on: The bitchy documentary producer behind the camera (whom you hear, but don't see) is highly hateable. But maybe it's supposed to be that way?
In conclusion, you should definitely watch My Generation...if your quota for Thursday night eye candy is low. And if that is the case, might we suggest some safer alternatives like Joel McHale, Ian Somerhalder, Nina Dobrev, Kaley Cuoco, David Boreanaz, Tina Fey, Jim Parsons, Gillian Jacobs, Emily Deschanel...
Verdict: DVR it. Undoubtedly some of you will love this show. And given its pairing with Grey's Anatomy, it could even be the dark horse of the season to break out into a big hit. And half our office will cheer.
OUR TOP FIVE LIST SO FAR
5. Running Wilde (Fox)
4. Nikita (CW)
3. No Ordinary Family (ABC)
OUR REVIEWS SO FAR
Fall TV Preview 2010: My Generation