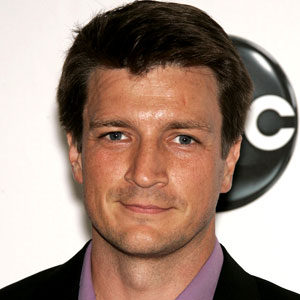 AP Photo / Gaas
Nathan Fillion is made of pure awesome, with some sexy thrown in to boot!
So why are we singing Nathan's praises today? Besides the aforementioned goodness, we just chatted him up and you'll never believe the list of guest stars he's got in mind for the upcoming season of Castle. (Hint: If you're in the biz, you're probably on N's radar...)
It all started when we brought up Desperate Housewives and some of the fun he had with that big ol' cast.
"I just found out that Kyle MacLachlan is available," Nathan gushed. "When I was doing Desperate Housewives I was stuck to that guy like glue. He is incredibly entertaining and incredibly talented. I really, really want to have him on Castle like he can't believe."
So there's that. Kyle, are you listening? Nathan's comin' after you.
Then, we somehow unleashed his own Pandora's box of dream stunt casting because this is what we got out of our favorite Buffy baddie:
"I have a list of people I want to see on Castle. Hang on, I'll pull that up..." [Editor's note: Nathan did in fact pull out his iPhone and proceed to read off the following.] "Alright, here we go. People to have on Castle: Kevin Sorbo, Sarah Paulson, Lyndsy Fonseca, James Marsters, Bo Derek, William Shat, Kyle MacLachlan, he's on my list, Michael Hitchcock, James Denton, Mircea Monroe, Alexis Denisof, Alan Tudyk, Ron Glass, I have the whole cast of Firefly here, Dylan Baker, Jaclyn Smith...these are just some of the people. The list grows longer all the time."
Whew! That was a mouthful.
And now, we leave it up to you: Are any of Nathan's dream Castle-ites on your wish list, too? Which of his former costars are you dying to see on the ABC hit? Take the poll below, and if there's anyone we missed, you know what to do in the comments section. Yep, let us have it!
Nathan Fillion's Dream Castle