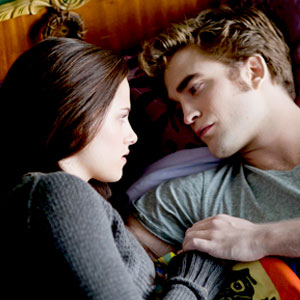 Kimberley French/Summit Entertainment
As gruesome as it may be, Bella's big birthing scene in Breaking Dawn can't come soon enough.
But until then, here's an update on what to expect…
Screenwriter Melissa Rosenberg tells me she's been in Baton Rouge with director Bill Condon doing rewrites for the scripts for the two BD movies.
"We're working on it," Rosenberg says of baby Renesmee's less-than-pretty arrival. "And we're working on it to be as intense as it is in the book."
Yikes. That could be a whole lotta gore.
"I don't think it's about the amount of blood you show," Rosenberg says. "It's about the intensity of it. It's on their faces. It's all from Bella's point of view when you're seeing what's going. It should feel visceral. I think it's going to be pretty intense."
What's Rosenberg's ETA on the final scripts? "It better damn well be before the beginning of November," she says, "because that's when we start shooting."
________
Speaking of Breaking Dawn, click here to get some good pet-friendly news about Kellan Lutz.