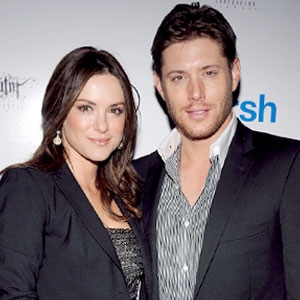 Gary Gershoff/WireImage.com
"No, are you kidding? The fans would kill me. I'm so hated there."
—Team Awful fave and soon-to-be network TV funny gal Danneel Harris when we asked her—now that she's hitched to Supernatural hunk Jensen Ackles—if she'd consider making a cameo on the ghost-huntin' series.
Yikes! 'Tho, true. See, we told you the babe was smart. She knows exactly where she's wanted and where she so is not. Shame, we'd love to see her go all badass on some demons (and, ok we admit, we'd love to see the Supernatural fan girls get all riled up too).
We spotted the brunette babe trying to sneak past the red carpet at last week's Machete premiere, but she happily stopped to chat with us about her new show and, of course, her new husband:
First, let's get to the wedding biz, cause we know you're dying to find out if the couple is feeling the newlywed heat:
"It's pretty good. It kind of feels exactly the same, actually," Danneel dished nonchalantly.
Hate to break your hearts, but Mrs. Ackles is telling the truth—despite the duo working so many miles apart on their respective series.
As for her new NBC show—Friends With Benefits—we wondered how the babe felt about swapping plotting, scheming, manipulating, and drama, drama, drama—on One Tree Hill, of course—for punch lines and sexy times.
"It's all I've ever wanted to do," she gabbed about getting her funny on. "I've always wanted to do comedy, it's where I started and then I was shipped off to this drama and I think I did OK."
We say you did more than OK, babe. Hate on her (and her acting chops) all you want, but the gal knows how to let her inner bitch out—on the silver screen, at least. And while we know most of you won't be tuning in to her new series, we definitely will be.
Hey, on the bright side, now that she's ocupado with this full-time gig, you koo-koo crazy fans can focus all your Jackles-wife hating energy on Genevieve Cortese. We're sure she needs some excitement now that her honeymoon is over.