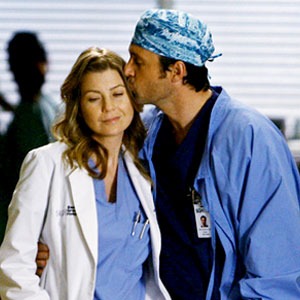 ABC/SCOTT GARFIELD
As promised, here is your second helping of exclusive TV scoop you can't find anywhere else.
Why? Because there's more stuff you gotta know! Dig in:
If you missed yesterday's Spoiler Chat, and the big Gossip Girl scoop on Chuck and Blair, it's here.
Bradley in Las Vegas: The Dancing With the Stars cast is great this season—and you pegged so many of them correctly. Well done, Kristin!
Why thank you sir! (Or, um, Mom? Is that you? Are you making up fake names again?) And if the Dancing pros are to be believed, this season's cast will not disappoint. In fact, they might even exceed the greatness that was Kate Gosselin and Jake Pavelka (sense the tone...). "We're very worried about how we're going to follow up last season, but this cast is great," Maksim Chmerkovskiy tells us. "It's a great follow up, maybe better—or just different." Adds Derek Hough, who we revealed is partnered with Jennifer Grey, "I'm really, really excited about my partner this season. She's fantastic. She's awesome to work with, great energy. Literally, I'm really, really excited." So listen guys, he's really excited! No, really really!
Jerry in Kentucky: How's that Michael Emerson-Terry O'Quinn project coming along?
It's currently still in the Dream Project stage, but Michael Emerson has some more genius ideas, should the show come to pass. "It would be fun if it was a lighthearted drama, a nice mixture," he told us at the Emmys. "It would be fun if we got to be older men in all our frailty and weakness, too." The Man in Black doesn't age, does he?
Rob in Minneapolis: When will we see 'Watch It', 'DVR It', 'Skip It' for the new season's new shows?
We're working on it right now...Get excited! Our plan is to launch it early next week.
Indie in Montana: How about some Brothers and Sisters dish?!
Big scoop! There's gonna be an engagement! Also, I'm told Balthazar Getty is definitely gone for good, Emily VanCamp will be back in the third and fourth episode and...Even though Rob Lowe is leaving the show, you're going to be surprised at his condition when the show returns (hint: breathing). The show will time-jump forward one year.
Stephen in Tolcua Lake, Calif.: What's up with Timothy Olyphant's guest role on The Office? I'm so excited for his episode!
You mean his episodes! Plural. Well, they hope. "He has been the most wonderful guest star ever, and I think we're going to try to have him again later in the season," Mindy Kaling says to us. "He's incredible, and in the episode he plays this charismatic salesman that used to date Pam and had a couple dates with [her]. He is so incredibly funny." As for Kelly's love life, Mindy tells us that she will continue a "dysfunctional holding pattern" with Ryan, but to look forward to a "couple cute stories coming up" between the two.
Benedict in New Orleans: True Blood please! Finale scoop!
I'm starting to get very frightened for our dear Sook (Anna Paquin). Something tells me Denis O'Hare's promise that he'll be "weeping tears of joy" may have to do with him walking in sunlight, and I'm also hearing Russell probably won't be offed. Danger, danger, danger.
Jalya in Kahala, Hawaii: Aw! I cannot believe the way Sam's acting on True Blood. Tell me it isn't permanent, please!
Sorry kiddies, but Sam Trammell tells me Sam's not-so-pleasant adventures are just beginning and will extend far into True Blood's fourth season. "I know one thing that's going to happen with Sam [next year], which is taking it to a new level. It's very cool." The gang doesn't even start shooting until November, so get ready for a long and painful off season. Sigh!
Courtesy of Kristian Dowling/Picturegroup
Laney in Las Vegas: Enough Finnchel already! Please tell me Tina and Artie won't stay broken up for long! They're my favorite couple!
They are superadorable, aren't they? Never fear, according to Kevin McHale, Artie is going to fight for his woman! "Tina broke up with him, so he goes above and beyond to try to get her back, which is fun" he tells us. "We're doing stuff that I never thought possible with my character." Perhaps more dream-dancing sequences? Can't wait to see!
Selena in Nebraska: I cannot even tell you how excited I am for the Britney Spears episode of Glee. Got anything?
First of all, you just did tell me how excited you were. But that's OK, because so are we! Heather Morris filled us in on the Brittany-Britney episode: "We want to do [Britney] for [a glee club] performance, and Will Schuester doesn't allow it—he doesn't agree with us. My character's arc [in the episode], in a way, is Britney Spears!" Fingers crossed someone gets an umbrella to the windshield. And Ms. Morris can't stop singing her praises for Britney: "She did such a good job. She was very very quiet and very sweet. She was awesome." Another tidbit Heather shared: "You figure out my character's last name!" Start guessing right...now!
Gary in Illinois: So happy Modern Family is about to premiere. Do you have anything on my favorite family? It's the best show.
You mean Emmy Award-winning best show. Get it right. And I do have some scoop about your favorite family, more specifically, the kids! "In our very first episode there's an earthquake and someone gets stuck in a bathroom with the plumber," Ariel Winter spills to us. "I'm not going to give away [who], because that would completely ruin it, and Alex may—or may not—get a boyfriend. And Manny gets some special girl time!" It's long overdue for Manny to get some loving. You know what else is long overdue? That's right, the kiss between Cameron and Mitchell. "Fans, you will get what you wanted," Ariel promises. "Everyone is going to get what they wanted, and it's going to be epic. Fans, watch!" No need to tell us twice.
Heather in Eugene, Ore.: Thanks for the scoop on Cristina and Owen getting married! So excited that it is them. Any more Grey's scoop?
I'm told that Meredith, Derek and Cristina all have been held back from returning to surgery for various reasons. Meredith is still "off" (having not told Derek about the pregnancy/miscarriage), Derek is "off" (living a bit dangerously from where I stand and speeding around town, but hopefully not pulling a Vincent Chase after his near-death and dating a porn star who cannot act), and Cristina is consumed by her wedding plans, as previously reported.
Aaron in Tallahassee, Fla.: Anything you can tease about the new season of Dexter would be wonderful!
How about a little Masuka tease to quench your thirst for Dexter spoilage? "I'm continuing my laugh-a-thon stuff, but they're throwing some serious material my way," C.S. Lee told me at HBO's Emmy party. I'm told some of these scenes might include some time with Deb, but the romance he's longing for is still MIA. David Zayas promised some pretty serious stuff for Bautista and LaGuerta, too. "I'm a newlywed, and with that comes a lot of complications," he teased. "With everything that happened the last episode, everyone's life becomes more complicated."
Giulio Marcocchi/Sipa Press
Penny in Ojai, Calif.: Give me the goods on 90210, please.
Annie and Liam will make an attempt at coupledom after they seek Naomi's permission. Which we hear she gives them both—although, she's in a terrible state of mind to be making such rash decisions.
Karina in Maryland Heights, Mo.: Any scoop on Sloane and E on Entourage?
Nope, but that's not just because we're holding out on you, it's because that's less of a focus this year. Emmanuelle Chiquiri just told us, "I am honestly in the dark about what happens with Sloane and E. I hope that in our next season [I find out]. I'm curious to know."
Bruce Glikas/Getty Images
Verne in Tallahassee, Fla.: What's up with Vanessa Williams on Desperate Housewives? Is she gonna live on the street?
The lane, Wisteria Lane, yes. I'm also told that Paul is back and everyone is completely freaked out by it.
Billy in Pennsylvania: Is 30 Rock going to pick up where it left off in the finale?
Kevin Brown, aka Dot Com, says there's one thing he knows about 30 Rock latest season—and it's that there's not going back to that wacky love triangle storyline with Grizz and Dot Com. "I dunno what that was," he laughs. "But we haven't seen that. It hasn't been revisited yet. We seem to be going back to the Tracy Jordan zaniness." Which is a good thing, no?
—Additional reporting by Jennifer Arrow, Megan Masters and Jenna Mullins