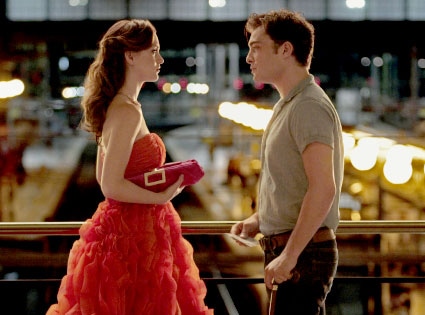 Giovanni Rufino/The CW
What you already know: Leighton Meester is going to look stunning in some fabulous new threads in the upcoming season of the CW's still-addictive Gossip Girl. (How dreamy is that dress above?!)
What you don't know: What she'll be doing without those clothes in an upcoming steamy encounter. And I have the exclusive scoop!
Click in for that, plus find out which Desperate Housewife is becoming a Househo, and the latest on True Blood, Glee, The Office and more...
Note: We're giving you more Spoiler Chat (Part Deux) tomorrow, Tuesday. Why? Because we care. And we have more stuff to share! Including some Vampire Diaries and Brothers and Sisters dish you're gonna love. So make sure to check back!
Drew in Moorpark: Did you forget about the Married Couple spoiler game? You owe us another elimination! You're overdue!
In all fairness, I had said I could only narrow it down to three couples, but now I can actually give you the final reveal...Yay! I just cut it down to two right here and at noon ET/9 am PT tomorrow (Tuesday), my embargo will be lifted and I will reveal the couple.
Marty in Austin, Texas: Following Lost's huge injustice at the Emmy Awards, I had a question. What awards are Lost still eligible for this/next year? Golden Globes? SAG? Anything?
I completely agree. It was heartbreaking to see Lost miss out on some well-deserved Emmy gold. (Not even directing…Really?) But there's still hope! Lost is indeed still eligible for the Golden Globe Awards and the Screen Actors Guild Awards, so the final season may still be recognized yet. Shall we start that Globes campaign now? I have some poster board and glitter puffy paint. Better ideas?
Joan in Rancho Cucamonga, Calif.: Community or Glee, please.
How about both? Community really could be going all Glee (and I'm not talking about Joel McHale's fancy Emmys opening moves!) "We've been begging for a musical episode!" Alison Brie told me at last night's HBO Emmy party. "Yvette Nicole Brown is an amazing singer, Donald Glover raps as Childish Gambino and we have a lot of people with great voices. I sing a little bit. So we're all like, 'When's the musical episode, guys?' But they have yet to tell us they would do that." Dan Harmon, are you listening? Is this thing on? 
Brandon in Minneapolis, Minn.: I'm having Community withdrawals. Anything new to share?
When Betty White pops up in Community's season premiere, she'll be doing more than just teaching anthropology. Love quadrangle with Betty, Annie, Jeff and Britta perhaps? "I can't answer that," the always fab Alison Brie tells us, "but I can tell you that Annie and Betty have some intimate moments." And now at the request of Alison we shall let your mind wander…
Mariam in Gaston, Texas: I think Kelly should replace Michael Scott on The Office.
You know who agrees with you? Mindy Kaling. "Kelly's gotten really ambitious this season. I feel like every episode she has some big speech about why she deserves to have everything," Mindy tells us. So, how would Kelly Kapoor pitch herself as the new regional manager? "I think her pitch would be that the office would be much more women friendly. She's really into feminizing Dunder Mifflin paper. She wants to make Dunder Mifflin a safe place for women." So, pink paper, pink printers, Pink the person. Pretty much anything that's awesome…Also, the "I" in the show's title would clearly need to be dotted with a heart. Think of all the new female viewers, NBC. This is a no-brainer!
Frederick: Gossip Girl. Give it up! Is there any hope for Chuck and Blair? I'm getting really depressed with what I've seen for the new season.
I know you Chair fans have been in a funk since May, when Chuck the Basshole did you know what with you know who (for shame!), but I finally have a ray of hope to offer...I can tell you exclusively that Chuck and Blair will have, um, relations, of the bom-chicka-bow-wow kind during the upcoming season. At least, that's what my sources are saying. Whether they will actually get back together, well…that I cannot say, sorry. But still, that's a pretty major reason to keep tuning in, right?
Leslie in Carmel, Ind.: Gossip Girl...What can you tell us?
Penn Badgley can sum up the return of your favorite Upper East-Siders: "There's a baby on the way, which I think everybody already knows anyway. We're in Paris for a bit. There's a gunshot wound and there's another marriage." Then he laughs. "I think. It's hard to keep track of the weddings, because they're all broken up anyway!" So, business as usual then? Indeed. "It's the same kind of sensational stuff you've come to expect, and the change of locale makes it even more gorgeous. More of the same but in an even more heightened capacity," Penn promises. Hang in there, GG fans. It's almost time for the season premiere.
Marco in Florida: Could I please get some Desperate Housewives scoop? You haven't talked about it in ages!
Damn skippy. And I'm about to fix that. But if you're under the age of 18, avert your eyes! Sources tell me that Teri Hatcher's Susan will be dabbling in some voyeurism—on the receiving end—for pay, in the coming season! Word is, she moves into an apartment building where her neighbor is cleaning her apartment in her lingerie for money, and Susan just might dabble in dusting while showing her derriere. Also, Vanessa Williams is totally the new Nicolette Sheridan of the show—on camera. She is a diva with money, a divorcée, and Lynette's former college roommate with whom she always had a very contentious relationship. Lynette's gonna have a whole heap o' drama courtesy of Ms. Vanessa this year. I hear her character is moving onto Wisteria Lane. 
Greg in Maui: Some romance scoop on Glee, please!
Aside from our exclusive visual proof that Finn and Rachel will be PDA City: See it here! How about a big sigh of relief for the couple that is not happening?! Jessalyn Gilsig (who looked amazing at last night's Emmys, no?) tells us that producers decided not to do anything further with Terri and Finn. "That was too dangerous, so we decided not to go down that road again," she tells us. "Teri's gonna get a new life, which is good. And it integrates her into the glee club, bringing me around the kids more." Hmm, vocal coach maybe? She's got her heart set on a new lovah—or ten! "I'm insisting," she teases. "I definitely think Javier [Bardem] has wanted to work with me for a long time, so that's something we have to realize for him. I like that there's a history built in with Neil Patrick Harris' character, so that would be really fun too. I'm a very easy, slutty person, so I'll just go with anyone." And I will stay Team Jessalyn.
©Frazer Harrison/Getty Images
Jessica in Tenn.: Are we going to see something happen with Arlene's baby situation before the end of the season on True Blood?
As a matter of fact, Mrs. Carrie Preston assures us we will…well, kinda. "Arlene is still very conflicted. But there's going to be a resolution to the conflict," she says, "But it's also going to be open-ended." Either she's speaking in tongues or my Emmy (lack of sleep and too much ginger ale) hangover is worse than I thought. Does that make any sense to anyone? Carrie's equally wonderful hubby Michael Emerson weighed in on the baby drama, saying, "I mean, we have to see the baby," to which she responded, "If there is a baby…" Now I'm really stumped. She's not pulling a Terri Schuester is she? Or preggo with some sort of supernatural somethin'? The mind boggles. 
Gina in Australia: Is Leven Rambin (Sloane) coming back to Grey's Anatomy?
We chatted up Leven at the Kari Feinstein Gift Lounge this weekend and though she said her "lips were zipped," her eyes at the HBO Emmy party (OK, fine, I was talking to her!) sure said yes. When asked which Grey's guy she'd love to hook up with, she told me: "Is it weird to say my dad? 'Cause I do love Eric Dane." Then she laughed. "Yeah, yeah, that is weird. Let's go with Alex. That would be a good fit!" She's also happy her character didn't show up in the latest shoot-out season finale. "Sloane probably would have just used someone as a human shield."
©Jason Merritt/Getty Images
Cara in N.C.: Can you tell us anything else about the big kiss on Modern Family?
Who cares about Cam and Mitchell? Kidding. I do. But now that everyone knows that kiss is happening, how about the fact that the other couple who have never kissed are finally gonna do the deed, too, in the same episode. "It's a big kiss episode," Sofia Vergaga (Editor's Note: That is a type-o I am so leaving in!) tells us. "We all kiss each other. Family kiss!" And yes, that includes a long overdue smooch between Ed O'Neill and Sofia. The real victim here? Julie Bowen, who jokes, "I never get to do any fun kissing!" Clive, we feel for you man. We thought it was special, too.
Keith in St. George, Utah: Any fun storylines this season on Modern Family?
Fun? You want fun? Well, how totally super-fun-good-times is this?! The Dunphy family is going to mourn the loss of a loved one. Hooray! Oh, chill out, I'm just talking about a hunk of metal. "We say goodbye to the family car, which is actually very emotional," Julie Bowen deadpanned to me at the Emmys. "It's the sedan from like1985. I spent the week crying over that car. This is a car you haven't seen that's just been sitting in the garage." You heard it here first people: MF is going really dark for an episode. Have the hanky on standby.
©Jason Merritt/Getty Images
Julia in Indianapolis: Since there's not one big bad on Dexter this season, is he going to be up against all the guest stars coming on board?
Nope! Or so says my Dexter girl-crush (MCH, see, we have so much in common!) Jennifer Carpenter. "The guest stars are not all about different cases. They each serve their own purpose." As for the tone of Dexter this season, J. Carp says: "It feels like the pilot, and things are running the way they were way back then. It's like a kick back to the original, which is fun!" 
Kurtis in Los Angeles: Any news on a Quinn and Deb romance on Dexter this season
It sure sounds like it's a go! "They are a good fit right now," Jennifer says. "Deb's just trying to get back to work. There's a new case that's really exciting, and some of the dynamics in the bull pen are changing. The show is a lot more procedural that it ever has been." 
Jessie in Houston: I'm craving anything you've got on Big Love, please.
It's still too early for any real Big Love dish, but fresh off his Emmy win, onetime Henrickson-in-law Aaron Paul tells us he and his onscreen wifey Amanda Seyfried might return for season five. Says the Breaking Bad star: "I haven't gotten any official, official word, but there have always been hints about having Sarah and Scott come back for a Thanksgiving episode."
Boris in Ore.: What have you heard about Andy and Erin's relationship on The Office this season?
Sorry to burst the bubble of any Andin shippers out there, but these two are still dunzo. "Andy is on his own journey," Ellie Kemper said at the Emmys. "Andy's focusing on other things, acting—he's in community theater, a show-stopping number in a show stopper of a show." So will Erin's ex-beau take on her rumored new beau Gabe (played to perfection by newcomer Zac Woods)? "No fist fights," said Ellie. But Zac put it more hilariously: "If the statement is 'I don't know who would win in a fight between you and…' regardless of who the other person is, I would lose. I'm jacked, but my Herculean frame is deceptive." Hate to say it, but they're kinda cute together, peeps!
Alicia in Pittsburgh: Any scoop on Jax and Tara on Sons of Anarchy this season?
Let's just put it this way: For Jax and Tara, season three is probably going to be both the best of times and the worst of times. They'll have some awful fights (for which Jax deserves most of the blame, BTW), and they'll have some really wonderful (top-secret) twists as well.
--Additional reporting by Jennifer Godwin, Megan Masters and Jenna Mullins