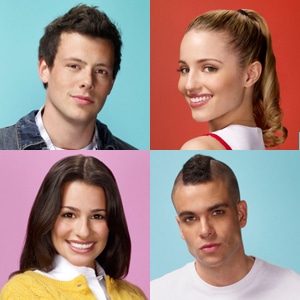 Matthias Clamer/FOX
Glee, the breakout, blockbuster TV series we all love, returns to Fox Sept. 21 at 8 p.m., but before you watch, you hard-core fans from season one must take a look at our brand-new exclusive photo from the season premiere.
It's nothing less than a smoldering shot of one of your favorite original couples.
Which pairing is looking very romantic in season two? Click in to see for yourself:
Juicy, no? By the looks of this promotional still, Finn (Cory Monteith) and Rachel (Lea Michele) are most definitely living up to what Ryan Murphy promised us they would do: Keeping their hands all over each other in the new season. Holler!
So, does this pic make you squee with Glee (yup, we just did that)—or are you scowling and closing your browser window?
Hit the comments with your reaction to this Finnchel reunion shot!
_________
Follow @JenniferArrow on Twitter for 24/7 TV scoop!