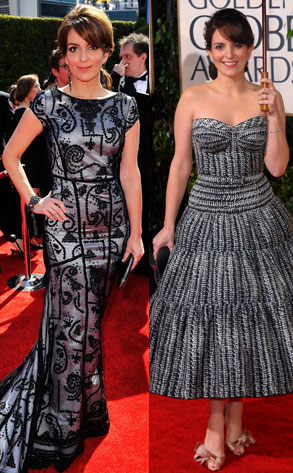 Mathew Imaging/WireImage.com, Jason Merritt/Getty Images
No more funny business for Tina Fey—on the red carpet, that is.
After seasons and seasons of awards shows in quirky, boring or blah couture—where she looked more like the wife of a nominee or, even worse, a producer—Tina finally brings the glitz and glamour to tonight's red carpet.
Her formfitting, embellished Oscar de la Renta gown is whimsical, interesting and gorgeous, and the bouffant 'do is lovely. What a style 180 from her Golden Globes dress back in January.
We have yet to see if she wins an Emmy tonight, but she's already won best red carpet transformation in our book. Congrats, hon!