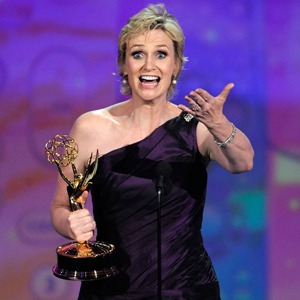 Mathew Imaging/WireImage.com
Jane Lynch gave reporters the slip. George Clooney demanded respect. Tom Hanks dropped the F-bomb. Padma Lakshmi beat down the competition with her own bare hands purse.
And Jim Parsons? Dude had an out-of-body experience. 
Can you handle what went down backstage at the 62nd Primetime Emmy Awards?
Jason Merritt/Getty Images
• Top Chef's Lakshmi has a postwin confession: "I was really mean to the host of [The Amazing Race] on the red carpet. I hit him twice with my purse."
• Lakshmi thought The Amazing Race was going to take the Reality-Competition Emmy because, well, it always does. Or did. We ask the Top Chef crew who they'd thought win if somehow, someway Amazing Race didn't. Judge Gail Simmons doesn't miss a beat: "Top Chef."
• Modern Family's Eric Stonestreet isn't worried about his first day back on the set given the fact that he won, and every other Modern Family actor, um, didn't. "This win is a win for the show," he says. "It won't be awkward at all."
• Stonestreet is an eloquent spokesman for his show—and modern families of all ilk. "My goal with Cameron [was]…I just wanted someone, somewhere to say, 'I'd sit down with that guy."
7 p.m.: On stage, Comedy Series Lead Actress winner Edie Falco said she was not funny. Seriously, we ask, you're never funny? She laughs. But the Nurse Jackie star is serious: "I never really thought of myself as funny, no."
• Falco is getting grilled, and kinda exasperated, on the matter of how a former winner (for The Sopranos) could be so surprised to be a current winner. "I am not playing coy here," she says. "I really am just dumbfounded."
Mathew Imaging/WireImage.com
• Didn't John Lithgow win for Dexter last weekend? Yes, he did. But he's back here now. Or, rather, back here again. Concedes Lithgow: "I'm old news."
• In his speech at the Creative Arts Emmys, Lithgow mistakenly thanked HBO, an error of  which he is well aware. "I thought nothing but Showtime thoughts all week," he says.
• Bryan Cranston has now won Lead Drama Series Actor three years in a row. He is totally fine about not being able to make it four years in a row owing to Breaking Bad going away until summer 2011. "What?!" he "vents" when reminded. "That is bulls--t!" 
• Just to be clear, Cranston really is totally fine. And then some. "I'm so grateful," he says.
• What was Kyra Sedgwick doing all those years she didn't win for The Closer? It sounds like she was keeping tabs on people like her. Says Sedgwick: "I like Susan Lucci. I think she's awesome…Martin Sheen never won for West Wing. I mean, how crazy is that?"
• Sedgwick smartly accessorized her press conference with a champagne-quaffing Kevin Bacon, who stood offstage.
Mathew Imaging/WireImage.com
7:30 p.m.:  The Emmys flack introduces George Clooney. Clooney stops at the flack's mic. "That'll be Mr. Clooney," he corrects, and takes the stage.
• Has Bob Hope's head gone to Mr. Clooney's head? Nah. He's just giving good soundbites, per usual. Or maybe, we'd like to think, reliving our own little Oscar moment from a few years back when we called him, yes, Mr. Clooney.
• Haiti, Prop 8, giving back. Clooney gets asked about it everything because he'll answer anything. So, where does he stand on the night's most important issue? "Jimmy Fallon is killing it out there," he declares. "Really funny."
• Here's a mental picture for you: Clooney hanging in the Emmy green room with Al Pacino and Tom Selleck digging on how he's hanging in the Emmy green room with Al Pacino and Tom Selleck. As the starstruck star reports: "I'm suddenly 14 years old again."
• Want the scoop on Clooney girlfriend and Emmy date, Elisabetta Canalis? Don't ask Clooney. You'll get more details about his pre-Emmy game of hoops. "John Krasinski came over to my house today with a bunch of guys to play basketball," he offers, adding: "If you see him later, he's limping."
• Of Canalis (whom he doesn't name-check)? All Clooney says is, "She picked me up in Italy."  
• Aaron Paul is in love. With his Breaking Bad Emmy. "I can't believe I get to take her home tonight," he says.
• Emmy-winning Tony Awards writer Dave Boone gave a shout-out to Jay Leno in his acceptance speech. Was he taking a shot Team CoCo?  No way, he tells us. "It wasn't a political move by any means. It was just my tribute to Jay," he says. "He really did give me a break."
Mathew Imaging/WireImage.com
8 p.m.:  OK, so the night's winding down, and we're starting to wonder, when is Jane Lynch coming back here? As it turns out, the Glee winner did come back here. About two hours ago. What happened was she arrived during a press-conference traffic jam, apparently didn't want to wait around, walked to the back of the room—and kept right on going.  (The woman does wear a track suit for a living, so I guess it's understandable.)
• Lynch's boss, Ryan Murphy, who won for Comedy Series Directing, isn't doing a press-room stop, either. (No reason given.) Sad but true, we are oh-for-Glee.
• Tom Hanks cannot be standing farther away from the mic as his Pacific band of brothers brothers hold court. Now that's star power.
• Hanks can't hide from the spotlight for long. He is asked why, on a night when a perennial winner like The Amazing Race loses, his productions keep right on rolling. "F--kin' A!" the living legend blurts, adding tongue still in cheek: "The Amazing Race thing threw me...And sorry for dropping the F-bomb. Take that out."
• The fun thing about surprise winners, à la Parsons, is that they're a lot more surprised than repeat winners, à la the crew from Mad Men. Creator Matthew Weiner does his best, though. "I thought Breaking Bad might win," he says. "And, like a lot of people, I thought Lost might win."  
• Mad Men is a three-time Drama Series winner—with a reputed reputation for celebrating its wins, how shall we say?, heartily. Show spokeskid Kiernan Shipka (aka Sally Draper) confirms: "We party!"
• We don't know how, or if, Robert Morse has been celebrating, but we do know the Sterling Cooper elder took to the mic as the rest of the cast departed to sing a few bars from his 1960s Broadway hit show. Yes, closing time is nigh.
• Behold, the big, happy Modern Family cast and crew! Er, scratch that. Behold, the big, happy series cocreator guy! "My staff bailed," Steven Levitan tells us. "So I'm sorry. It's just me."
• For the first time in three years, Tina Fey isn't back here, either. "I'm a huge 30 Rock fan, so it doesn't give me tremendous joy to break their streak," Levitan says. "I'm just happy we won."
• The biggest surprise of the night? It's over. That, and learning Parsons reads almanacs. Kinda thought only we did that.