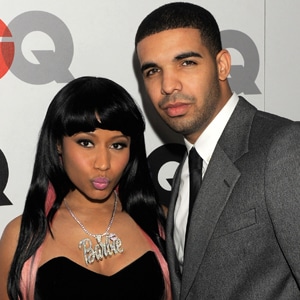 Todd Williamson/WireImage.com
They f--king did it. Played a joke, that is.
Nicki Minaj's rep tells E! News that the Trinidadian rapper did not swap vows with hip-hopper Drake, though both tweeted that they did earlier today.
While Drake said in his tune "Miss Me" that he fancied marrying Minaj, the duo decided to team up instead for what appears to be a publicity stunt. (And we bet plenty of people have been looking up that song today.)
"Please refer to @nickiminaj as Mrs. Aubrey Drake Graham and dont stare at her too long. She's finally mine. :)," he tweeted Friday afternoon.
Minaj went ahead and "confimed" via Twitter as well.
"Yes, its true. Drake and I tied the knot," she wrote, after asking her new faux hubby, "U scurred? @drakkardnoir u ready to make the announcement or wha?"
To which he replied (and she retweeted), "Baby I am never scared. PROUD is more the word I would use."
Aw.
In "Miss Me," Drake raps: "I love Nicki Minaj, I told her, I'd admit it; I hope one day we get married, just to say we f--king did it; And girl I'm f--king serious, I'm with it if you with it."
F--king serious, indeed.
The 23-year-old rapper, who starred in the hit Canadian series DeGrassi: The Next Generation under his born name, Aubrey Graham, canceled his European tour this summer so that he could spend more time with his ailing mom.
(Originally published Aug. 28, 2010, at 3:22 p.m. PT)