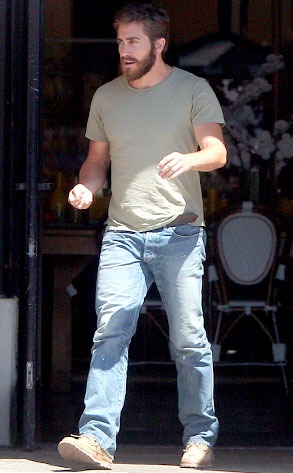 INFphoto.com
Before you freak out that our fave Hollywood hunk, Jake Gyllenhaal, is stepping out with a new babe, trust, we don't mean that arm candy. The candy we're referring to is how oh-so-delicious and totally mouthwatering his biceps are.
Seems after Prince of Persia (or as we like to call it: Sucked, Needed More Shirtless Scenes) Jakey-poo's muscles may be more recognizable than his adorable puss. At least, that's how the bearded boy is getting spotted lately:
'Cause while the facial hair might throw some off, those arms are unmistakable.
Jake hit up a beginner's yoga class at Yoga Works in Los Angeles last week and left his fellow classmates sweating from more than just Downward Facing Dog.
Wearing shorts and a tank-top—and of course the signature full beard (which we think he can pull off in a way Brad Pitt never could)—Jake tried to hide out in the back of the class. Uh, no chance there!
"His arms looked amazing," a swooning stretcher reveals, dishing that the dude was in "incredible physical shape."
Aside from his rock-hard bod, which we're relieved to know he hasn't ditched post-Persia, our pelvic-thrusting talker says that J.G. was way chill. As if we ever had doubts about his personality. It's why we love him!
And who better to work off all that unlucky-in-love stress, alongside Jakey, than the recently single...
Rachel Bilson, who was also in attendance. Our spy wasn't positive if they were together (as in together in the class, mind you) but revealed that Rach looked "extremely beautiful" and "perfect."
Um, where the hell do we sign up for this yoga class?