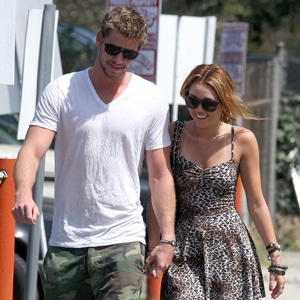 Matt Symons, PacificCoastNews.com
Miley Cyrus and Liam Hemsworth have sung their Last Song…for now.
Sources confirm to E! News that, as Liam's rep has announced to media, Miley and Hemsworth have broken up. Miley's rep, so far, is not commenting.
We so wish we could say it was because Cyrus is rushing to get back with Nick Jonas (eventually, trust), but that's not the case.
"Ever since she left for Detroit, Miley has been super focused on her work," dishes an insider close to the former couple. "Liam wanted more, but she's 17 and has other priorities right now. He's been a distraction."
"[Miley's] not with anybody else," emphasizes our source.
Does that mean Liam could be? Some sources are claiming it's Hemsworth who may not have been tamed during parts of their relationship.
We told you about LH's all night flirt-fest down in Newport Beach in early August, and while he appeared to have left the party and after-party solo that may not have been entirely what went down.
Sources claim to have seen Liam hooking up with another babe, not Miley, that same weekend in Huntington Beach where he was also partying during the US Open Surf Competition.
As we told you, shortly after his shady behavior down south that weekend, Liam went to Detroit to visit Miley on the set of LOL, making it his second trip since she arrived July 12 to see his Cyrus. But it was short, and possibly not so sweet.
"Both visits were only about 24 hours in length—by Miley's choice," adds our source. "She is not ready to settle down, and Liam's not a happy camper."
Now before you bash the Australian hottie, whether Hemsworth was actually cheating on Miley may be up for debate. Friends to the former categorize their relationship as "on-off."
One of our insiders claims the two have broken up and gotten back together before without the media knowing, so Liam's side hookup may be saved by a technicality.
Still, as one source cautions the Miley-Liam tale may not be over just yet:
"They're both young. To say they are done forever would be premature, but it's safe to say for now they are doing their own thing."
And that they are.
While Cyrus is hard at work, spies in Manhattan Beach—where Liam usually hangs—tell us they've seen him around town with "a few random girls," as well as his usual guy-tourage lately. Most recently Liam's been spotted solo this past Monday at the Hollywood Bowl for the Dave Matthews Band Concert with some pals.