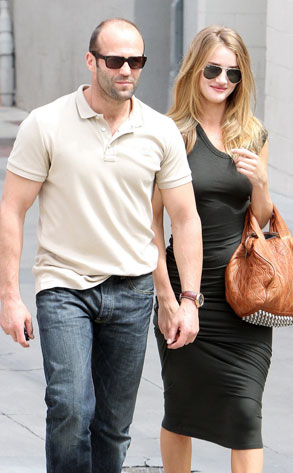 INFphoto.com
Dear Ted:
Here in the U.K., the Daily Mail is reporting that Rosie Huntington-Whiteley and Jason Statham are moving in together! Does that make them steady partners in your book? What do you think of this pairing? My rescue dog Jet is very curious to know! Surely neither could be a B.V. either, could they? Jason seems so, well, nice, funny and normal!
—K
Dear Pow! Bang! Splat!
Well, we all know how reliable the Daily Mail can be, but I do hear the two are très into each other. Why wouldn't they be? He's a huge action star; she's becoming the newest gratuitously hot chick in a Michael Bay flick. Perfect match, no? But c'mon, babe, don't you know by now that just because a couple is happy (or seemingly so), they can still make time for Vicey goodness?
Dear Ted:
WTF, Ted. It's all over the national media that Stephen Moyer and Anna Paquin got married over the weekend and not a word on the A.T.? I'm shocked!
—Ken
Dear I Object:
Clearly you don't follow any of Team Awful's twitters, Kenny, 'cause we totally gave the hottest newlyweds ever our best wishes (even if we weren't invited to the wedding). Get with the social-media program, 'K!
Dear Ted:
Any chance Moisty Mohr is Pat Robertson?
—Joyce