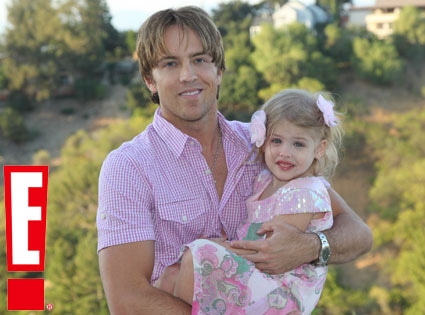 Larry Birkhead
Despite the sadness and sickness that characterized the final months of Anna Nicole Smith's life, she did leave behind a big ray of sunshine.
Dannielynn Hope Birkhead, the late model's daughter with Larry Birkhead, is already almost 4 years old and, according to her dad, is a happy, healthy child who loves school and cartoons, and is already flirting with the boys on the playground.
Here's a five-part primer on Anna Nicole's most important legacy:
1. Family Friend: Birkhead tells E! News that Dannielynn still sees Howard K. Stern (who once claimed to be the child's father) "occasionally," and a few times she's gone over to his house to play with Stern's dogs—which once belonged to her mom. Birkhead says that once he had established paternity of Dannielynn, he and Stern worked together to take care of Smith's estate and they remain friends. "Howard had some bad qualities, but he's not a criminal," Birkhead magnanimously says of Stern, who's facing a possible five years in prison if he's convicted of facilitating Smith's well-established prescription-drug habit.
2. Real Simple: It seems like Birkhead was just throwing her tabloid-cover-worthy first birthday party yesterday, but Dannielynn turns 4 on Sept. 7. This year, they're just having a "small party," Birkhead says, recalling how he faced "backlash" from certain people who weren't invited to the child's first soiree.
3. Spitting Image: It's not easy being a single parent, let alone father to Anna Nicole's offspring. "I know what I had with Anna, and I have a 38-pound reminder walking around my house every day," Birkhead says, adding that the toddler is a bit of a diva, like her mom, getting the final say on every photo he takes of her and hamming it up for the camera. She's even already flirting with little boys on the playground. "She already has motherly like instincts," dad says. "She's playing with her mom's dolls."
4. Eye Opener: Dannielynn has had two surgeries to correct strabismus, a hereditary eye condition on her mom's side that causes one to be cross-eyed. "She seems to be fine but we may have to revisit [this] again down the road," Birkhead says. As far as he knows, the condition has no correlation to Smith's drug problems. Anna Nicole did indeed consume methadone—sometimes straight from the bottle—while pregnant with Dannielynn. Birkhead says that once she got pregnant, he did have more serious conversations with Smith about her health but then had to step back and have faith in her doctors. "If she stopped taking methadone she could have died, the baby could have died," he says.
5. One Day at a Time: Dannielynn is "fine financially," and they still live in Smith's L.A. home, along with Birkhead's 18-year-old nephew. "They play off each other, but I have to watch what he says because she is like a parrot," Birkhead says. He also senses that Dannielynn, who's "into everything" and loves school and Tom and Jerry, has the desire to be around more kids. But he has to "proceed with caution" and "find the right people who are going to be around for the right reasons." He doesn't have a nanny, and he doesn't really date. Birkhead does his daughter's hair, takes her shopping and is more likely to be at the grocery store than out on the town. "[Dannielynn is] with me every single day," Birkhead says. "I spend tons of time with her. That is one of my biggest accomplishments. She knows the happiness she gets at home and from the people around her."
(Originally published Aug. 23, 2010, at 5:25 p.m. PT)
Don't miss E! News' exclusive interview with Larry Birkhead, Tuesday at 7 p.m. and 11:30 p.m.
________
Check out some more adorable offspring in our Famous Families gallery.