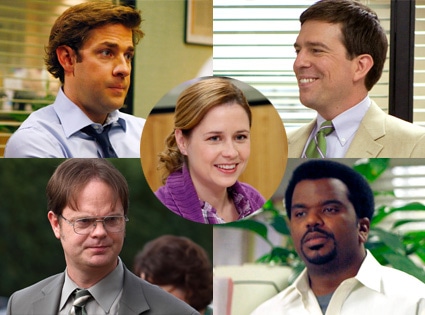 NBC
So who is going to take over for Michael Scott when Steve Carell ends his run on The Office this spring?
Despite rumblings that Danny McBride (Eastbound and Down), Rhys Darby (Flight of the Conchords) or Portia de Rossi DeGeneres may step in, we're now hearing that at least a few of the show's writer-producers are advocating for...
Promoting from within! Meaning, one of the many "movie stars" in the cast, such as John Krasinski, Jenna Fischer, Craig Robinson, Ed Helms or Rainn Wilson, would get the gig of Dunder Mifflin's Scranton branch manager—after Michael runs off into the sunset with Holly Flax...right?!
We ran into The Office producer Warren Lieberstein at a pre-Emmys event and collared him for the latest developments on Steve Carell's departure—and Amy Ryan's (Holly Flax) return. Here's what we learned:
Does the show crumble without Steve Carell, or can you guys soldier on?
We're really sad. I don't know how you soldier on from Steve leaving. He's such an amazing talent. He's the best. He's the best, honestly. But we're kind of lucky, we have a lot of movie stars in our cast! Craig Robinson, Ed Helms, Rainn Wilson—and that Krasinski guy is not bad, and Jenna Fischer, she's pretty great. I think the reason we've been able to survive as many seasons as we have is because of the supporting cast.
Will Michael Scott be succeeded from within?
We're still debating. A lot of us want from within, because we think we have such a strong cast, but we'll see. We have a network that also [has] wants.
Would the network prefer to announce that a big movie star is joining the cast?
Maybe, but I think there will be mixed feelings about what to do. I'm really excited about this season and seeing if there's someone from within that we could promote. That would be amazing.
Meaning that despite the media frenzy, things are still up in the air?
Absolutely. No decision has been [made]—everything has been talked about and is still being talked about. This season has stuff we've always wanted to do with Steve through the years that we haven't been able to do. [It's like,] "OK, here we go, this is it! We have to do everything this season."
What else do we get to see Steve do this year?
There's perhaps a little flashback—well, not a flashback per se, but a [retrospective] of Michael's girlfriends past. We have kind of a Broken Flowers episode where he revisits all his ex-girlfriends. Melora Hardin, who plays Jan Levinson, gets to come back for that, which we love.
And is Holly Flax (Amy Ryan) coming to take our boy away so they can live dorkily ever after?
Well, she's going to make an appearance for sure. There's obviously a lot of support for that. She will be appearing early in the season and then a little later. Who knows whether they'll ultimately be together, but definitely, you have to bring her back.
So Holly is coming back again at the very end! What's that we hear? Wedding bells and the angels singing? Come on, Office bosses, let's make it happen! If anyone deserves a happy Flax-tastic ending it's the World's Best Boss.
Who would you promote to replace Steve Carell? Cast your vote in our poll below:
The Office Movie Star Poll