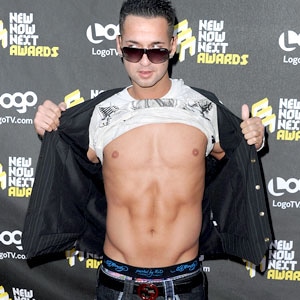 Frazer Harrison/Getty Images
Is Mike "The Situation" Sorrentino the richest reality douchebag on the planet?
—Outer Mongolia, via the inbox
He's clearly among the wealthiest gorillas, yes. If you're more of a Ronnie or Vinnie kind of Jersey Shore fan, you may not want to know that The Situation—or, as the Hollywood Reporter has aptly dubbed him, The Corporation—stands to make $5 million in endorsements and other deals this year.
How much Sorrentino's ego is making, however, is still under investigation:
"He's pretty business-minded, and has been savvy about this from the beginning," says Leslie Bruce of  the Hollywood Reporter, which just ran a rundown of exactly how Sorrentino fell into his millionaire situation. We're talking a book deal with a six-figure advance, a six-figure endorsement deal for a vodka brand, and of course about $60,000 per episode of his show—among other cash streams. (And none of this counts what he'll make from a Dancing With the Stars gig.)
It's clear he's one of the highest paid reality stars we've seen in a while. But he's not alone.
For the record, when I say highest-paid reality stars, I'm obviously not talking about hosts such as Ryan Seacrest, who makes in the tens of millions yearly.
But I do speak of creatures such as Kate Gosselin, who makes a reported $250,000 per episode for Kate Plus Eight. Given that there are six planned episodes of that show, that makes Gosselin the owner of $1.5 million. Speaker bureaus also tell me that Gosselin commands at least five figures for a typical speaking engagement.
There's also Lauren Conrad, who believes she can design clothing, and who has convinced Kohl's of same fantasy. Conrad (who was believed to make around $100,000 per episode during her Hills heyday) has moved on to a different sort of fiction—the book kind—and has penned a couple of bestsellers. She's been a millionaire since at least 2008, when Forbes reported her income as around $1.5 million.
As for E!'s own Kim Kardashian, she's been a millionaire many times over since at least 2007, when she negotiated a reported $5 million settlement for her sex tape. She now makes more than $5 million yearly.
Such earnings are not typical.
But still, weep not for your average reality star. Take chef Jason "Jay" Santos of the show Hell's Kitchen. He's doing quite well; he has a constant stream of appearances, a hotel casino chain wants to build him his own restaurant, and on and on.
He isn't making $5 million a year, but, he tells me, "for the month of August I am up $14,000 in appearance fees."
Add that up, and you get a nice six-figure income per year, not including Santos's regular income as a hot chef.