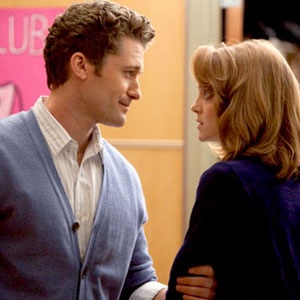 Adam Rose/FOX
Get ready to Gleek your pants.
I just chatted up Glee boss Ryan Murphy and the best hair-hater of all time, Jane Lynch, at the Creative Arts Emmys and you won't believe what they told me:
1. Get Ready for The John Stamos Show! Ryan Murphy not only confirmed that he is developing a show for Glee's Emmy-nominated guest star Kristin Chenoweth (let the angels sing!), but he revealed to me exclusively that he is currently working on creating a new show for upcoming guest star John Stamos, too! (All the Uncle Jesse fans in the house say boo-ya!) Ryan says both of them will "probably" sing in their new series because, hello, they can. Sounds like Murphy is setting out to create a whole new musical-comedy TV empire, and I like it.

2. Britney Scoop! Having Britney on set was like "having the President," according to Murphy, who reveals he couldn't even get on his own set at one point when Ms. Spears on shooting her guest spot! Security was so tight with wristbands, etc. that even the cast and producers had to face interrogation. Jane Lynch says she was at Disneyland that day because they "probably wouldn't have let me on anyway."
3. "Finnchel" and "Wemma" scoop! Ryan gave some giddy-good news on Finn and Rachel for the coming season, and some not-so-giddy news on Will and Emma. Check it out in this exclusive video of my interview with Ryan, in which we talk Britney, John Stamos, Kristin Chenoweth, the Super Bowl Episode and yes, the deliciousness that is Finnchel and Wemma...
4. Jon Hamm Looooves Jane Lynch! One more reason to totally adore the living daylights out of Lynch (and envy her even more): She got mauled by Hamm on the red carpet! OK, so this might not be a completely accurate description, but when one of the hottest TV stars of all time interrupts the middle of an interview to bear hug one of the funniest TV stars of all time, well, let's just say you have to see it for yourself. And lucky for you I have the video below. Jane also talks about what's coming up for Sue Sylvester, her SNL gig and more...
Note: If you are on our mobile site, deepest apologies that you won't be able to view our video. For the time being, I did try to give you most of the highlights here so you aren't totally left in the dark, and please do stop by E! Online next time you're on a computer to see the video.
Also, international users: Make sure you change your country origin in the bottom corner of the site to U.S. to be able to see the video.
And if you are a Gleek, join me in the comments for a squee-fest over all the yummy news in the interviews above!
________
Follow me on Twitter @kristindsantos for more Gleek love and half-off coupons for Finnchel pastries.
Video: Kristin's dress by Rachel Pally and jewelry by Bavna.