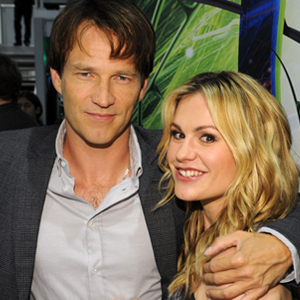 Michael Buckner/Getty Images
True love, True Blood-style: Sookie Stackhouse and Bill Compton have tied the knot….in real life. 
While the small-screen lovers have yet to walk down the aisle on TV, Anna Paquin and Stephen Moyer's off-screen wedding has gone down without a hitch (or a nasty vamp bite). 
The dynamic duo tied the knot at a private residence in Malibu Saturday evening, according to their publicists, "surrounded by their family and friends." Per Us Weekly, those in attendance included guests including Elijah Wood, the couple's True Blood costar Carrie Preston and her hubby Lost star Michael Emerson.
The vow-swap took place in a tent near the beach.
Paquin, 28, and Moyer, 40, began dating while filming the HBO hit's first season in 2008, and announced their engagement a year later in August 2009. 
"There's no one I'd rather work with," Moyer told E! News last summer. "I love working with her and that's how it all started, by falling in love on camera." 
The super-private pair, who didn't appear publicly together until February 2009, also kept the details of their wedding as top-secret as Sookie's true identity. 
Not even the designer of Paquin's wedding gown has been revealed just yet...or if Alexander Skarsgård will be joining them on their honeymoon.