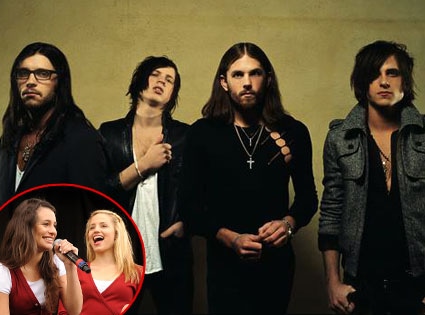 Scott Gries/Picturegroup for FOX
If the producers of Glee are going to "use somebody" for their music, don't count on these guys.
While Coldplay, Madonna, Paul McCartney and Britney Spears can't wait to have their songbooks given the New Directions treatment—and George Michael and Prince are also being targeted by show producers—the Kings of Leon are just too school for McKinley High School.
Caleb Folowill, the band's frontman, confirmed as much to the U.K. music site NME, saying the Kings have said no can do to the Gleek set.
But no hard feelings. While he's never seen the show, Folowill admits that "apparently everybody loves it." 
Still, the show's near-universal adoration isn't going to persuade the Tennessee rockers, who have consistently refused to sell their songs for use in TV series and advertisements, a trend more commonplace now as musicians struggle to find audiences in the digital age.
"We could have sold out so much more. We turn stuff down constantly," the bassist said. "We had some people call us up wanting to know if we'd allow 'Use Somebody' to appear in the trailer for their next movie, and we turned them down. Next day, they called back and tried to put us through to the star of the movie—I won't name names, but he's an incredibly famous actor—to let him try and convince us to agree to do it."
"I was like, 'Man, don't even waste your energy,' " he added.
Followill also confessed he and his bandmates also turned down an overture from the folks behind another small-screen stalwart.
"We got an offer to appear on an episode of Ugly Betty," said the musician. "The wanted us to play ourselves. We were supposed to come on and help her out with some problem or other."
Fat chance.
Meanwhile, despite their well-publicized walkout at a St. Louis concert after being bombarded by pigeon droppings—an incident that earned them jeers from fellow entertainers for wussing out and made them the butt of late night comics' jokes—the Kings are riding high.
The Grammy winners are currently shooting a new music video for a single off their highly anticipated new album, Come Around Sundown, set to drop on Oct. 19.
And for St. Louis fans who got the shaft at their derailed July 23 show, the Kings of Leon have announced a Sept. 25 make up date on their upcoming fall tour. All tickets for the original gig will be honored at the door and the band is also offering $10 tickets for those who don't have them to help fill out the Verizon Wireless amphitheater.