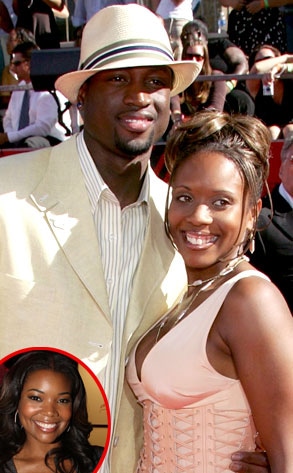 Frazer Harrison/Getty Images, Chris Weeks/WireImage
Gabrielle Union is no homewrecker.
That's according to an Illinois judge who has dismissed a lawsuit filed against the the Bring It On actress by Dwyane Wade's estranged wife, who accused Union and the NBA superstar of engaging in "sexual foreplay" in front of her kids that left the tots psychologically damaged.
Siohvaughn Wade sued the 37-year-old actress back in May, contending her and Dwyane's PDAs inflicted severe emotional distress on the Wades' two sons, 8-year-old Zaire and 2-year-old Zion, so much so that the former ended up having to seek medical treatment from stress and axiety.
The Wades, who were high school sweethearts, separated in 2007 and are now embroiled in a nasty divorce.
Siohvaughn's complaint ticked off a laundry list of other allegations against Union (10 Things I Hate About His Mistress?), some of them a little over the top—for instance, Siohvaughn suggested that since Gabrielle played a devious "seductress" on TV, she must be one in real life and broke up of their marriage!
The lawsuit sought a minimum of $50,000 in damages.
Wade's camp called his onetime missus' claims "meritless" while Union denied the accusations through her attorney, who labeled the lawsuit a"waste of time" and "are completely false and do not belong in the Illinois Court System."
Apparently, the court agreed in its ruling last week, citing improper jurisdiction. Now we're waiting to see if Siohvaughn tries again with another judge.
Good luck with that.