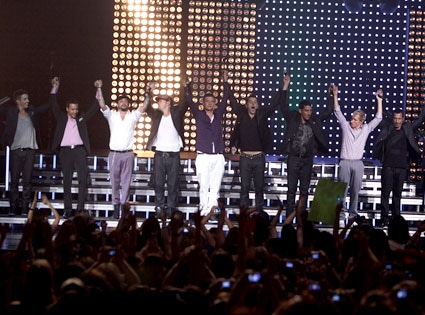 Moises De Pena/Getty Images
Backstreet's back! And going on the road with New Kids on the Block!
The hip-to-be-square manbands are close to signing a deal with Live Nation Entertainment for a joint U.S. tour in 2011, perhaps as early as March, E! News has exclusively learned.
A source close to the negotiations describes the proposed tour as an Expendables-meets-boy band experience, referring to the action blockbuster starring many beefy stars of yore.
"The idea is to recreate the boy band phenomenon," says the source. "It will be the ultimate ladies' night out."
Not that this would be the first time that Backstreet Boys and NKOTB have shared the spotlight.
Backstreet, which is down to a quartet since the 2006 exit of eldest member Kevin Richardson, joined New Kids onstage in June at Radio City Music Hall for a big group "jam" on Backstreet's "I Want It That Way."
"As for TONIGHT'S Concert... BACKSTREET BOYS got my respect forever!" Donnie Wahlberg tweeted afterward.
Indeed, that's where the idea of a joint tour began to jell, our source recalls.
"The response was amazing," the source says. "It was a great night of music."
We hear that Live Nation is currently searching for a third band to join the tour, with Boyz II Men being at the top of the list, and that, even though New Kids and Backstreet have different management, representatives from both camps have already begun talking about recording a single together prior to a tour.
A Live Nation rep declined to comment.
________
We'll leave it up to big-time tweeters Donnie and Joe to keep us apprised of what's going on backstage with Tweet Peeks.