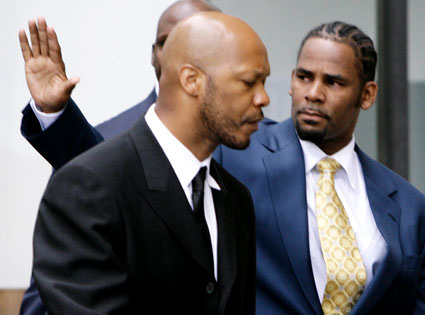 AP Photo/M. Spencer Green
Well, that was easy.
It took more than six years for the case to go to trial, but after less than a day of deliberations, a Chicago jury has found R&B superstar R. Kelly not guilty of all 14 counts of videotaping himself having sex with an underage girl.
If convicted, the 41-year-old singer could have faced a minimum of four years in prison and a maximum of 15 years and would have had to register as a sex offender in Illinois.
Kelly's acquittal essentially came down to whether or not his legal eagles instilled enough reasonable doubt in the panel of nine men and three women as they debated the kiddie-porn charges over seven hours. Obviously, Kelly's camp succeeded.
"R. Kelly was found not guilty, because they had the best jury that Cook County could produce," Kelly's attorney, Sam Adam Jr. said outside the courtroom.
Three hours before the verdict was reached, Cook County Criminal Court Judge Vincent Gaughan received a note from an African-American juror who attends a culinary school requesting that he be excused from the panel because of some serious family illnesses.
Per the Chicago Tribune, the panelist told the judge that he needed to be there for his family after his cousin had died on Monday; his aunt and uncle were hospitalized with pneumonia; and his niece was diagnosed with cancer.
"My mom is stressed out," the unidentified man told Gaughan when asked in open court. "I just need to find out what is going on."
However, after discussing the issue with both prosecutors and the defense who objected to his dismissal, the judge declined the request and ordered the juror to give his family's contact information to sheriff's deputies so he could keep in contact with them.
The jury also asked for an easel and paper so they could "visualize our argument" as well as an additional TV and VCR so they could compare notes on the kinky sex tape at the heart of the case. The judge granted their requests.
Prosecutors began building the child-pornography case against Kelly, whose first name is Robert, in February 2002 after the infamous videotape was anonymously sent to Chicago Sun-Times music critic Jim DeRogatis, who subsequently turned it over to authorities. After countless delays, the trial finally kicked off last month and lasted four weeks.
Helping the jurors in their decision to acquit was skepticism about a mole on his back that prosecutors claimed was proof that Kelly was indeed the man in the video who participated in the three-way with another woman and the minor in question and was seen urinating on the latter after engaging in various sex acts.
The alleged victim, now 23, refused to cooperate with the Cook County District Attorney's Office, did not testify against Kelly and neither did her parents.
The "Bump n' Grind" crooner's lawyers called their own forensic expert to assert that the X-rated footage could have been manipulated to frame Kelly and was of "such poor quality" that the elongated mole near his spine was really a shadow that kept disappearing and reappearing depending on the lighting.
The defense also called up several people who challenged the credibility of a number of the prosecutor's key witnesses, such as Lisa Van Allen, the other woman in the video whom Kelly's lawyers tried to paint as a liar and theif and alleged had tried to extract $300,000 from the entertainer to keep her from taking the stand.
Van Allen, 27, told the Chicago Sun-Times after the verdict was read that she believed jurors were easily swayed by Kelly's celebrity.
"Star power. Definitely," she said when asked of her reaction. "I came forward. I told the truth. That's basically it. That's all I could do. I'm disappointed."
Van Allen noted that she thought prosecutors "did a really good job."
Confident that his team had successfully rebutted the charges, Kelly opted not to testify in the trial before the case went to the jury.
(Originally published June 13, 2008, at 12:14 p.m.)