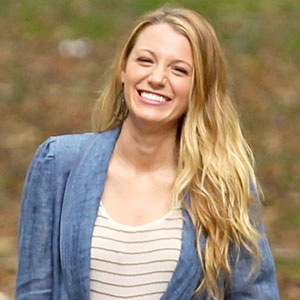 Jae Donnelly/INFphoto.com
Is Michelle Williams seriously considering a guest spot on Cougar Town? What's up with this new dude coming in to romance Serena (Blake Lively) on Gossip Girl?  And what's the latest on Chuck, Supernatural, Grey's Anatomy and True Blood?
If these are the questions keeping you up at night, we have just the cure...
Jorja in Boise, Idaho: Loved the Scrubs-Cougar Town casting scoop! Any other stars interested in coming on the show?
Well, Bill Lawrence has asked his cast if they have any friends who want to guest star, and Busy Philipps tells her famous bestie may be on board! "Michelle Williams and I were talking about how hilarious it would be if she came on and played my sister," she laughs. "I don't think her agents are going to go for it though." Um, we are! A Dawson's Creek reunion is long overdue, don'tcha think? I wonder what that Joey girl is up to?
Montana in LA: Anything on Betty White's guest spot on Community?
I hit the set on Friday and can tell you Betty White is doing something you would never expect—I literally almost fell to the ground in shock when I walked in on the set, because it was a far cry from the usual Greendale atmosphere! Betty also told me she'll be doing something at the beginning of the Primetime Emmys with host Jimmy Fallon, so you can look forward to that awesomeness. She also said she's totally open to more Community despite her very busy schedule.
Joanie in Sykesville, Md.: Glee! Glee! Glee!
Glee, it is. We caught up with some of the gang at last night's Breakthrough Awards (including Miss Dianna Agron, winner of Breakthrough Newcomer honors) and found out that Jane Lynch is bringing some Glee goodness to her Saturday Night Live hosting gig. Since her week-long SNL duties happen while Glee is in production, Brad Falchuck tells us one of the show's writers will be right there with her to pen some Sue Sylvester zingers. And some of the other Glee stars will be making their way to NYC to see the show.
Landon: Did Michael Emerson say anything when you talked to him about guest-starring on True Blood. There's been talk of this, and I want it to happen!
So does he. Michael tells me: "Whenever I see Alan Ball, he says, 'I must write something for you,' and I say, 'I'll be there in a heartbeat.' So we have an understanding and liking of one another. I certainly think he's a fantastic talent and maybe they'll find some little tidbit for me next season." Michael also tells me he loves Nurse Jackie, The Good Wife and Big Bang Theory and would be open to guest-starring on those shows as well. Though a run-in with the real-life Ben Linus might make Sheldon's head implode.
Anything on the cast of Dancing with the Stars?
We've heard all the same rumors as you: The Situation, Brandy, Troy Aiken, Jennifer Grey (because nobody puts her in the corner!), Teresa Giudice, Ali and/or Roberto and Landon Donovan…However, a source close to Landon tells us it isn't true. No one is confirmed yet.
Stephen Lovekin/Getty Images
Benny in Rhode Island: On Gossip Girl, what's the deal with Serena's new love interest? Does this mean Serena-Dan and Serena-Nate are over?
I'm told that the Dan-Serena-Nate triangle is definitely not over. The new squeeze is played by Sam Page and he isn't the kind of guy she usually dates. Thoughts? Which guy are you rooting for?
Francesca: Will Dean be living with his baby mama when Supernatural returns?
Yes.
Neil in Boise, Idaho: Didn't you hit the Chuck set? How was it?
Magical, as always! Yvonne Strahovski was shooting a fight scene on a catwalk with supermodel Karolina Kurkova, and it's definitely going to rank up there as one of the best girlfights evah on Chuck. Yvonne also answered one of your fan questions—whether Brandon Routh/Daniel Shaw will return—in a way I think will make you happy! "Oh man, another rise from the dead!" Yvonne says with a laugh. "I don't know how the fans would like that one. I think we have to leave the love triangles alone this time around because I think the fans just want to see Chuck and Sarah together for a little while before we bring in an evil love interest." Yvonne says of Chuck and Sarah: "They're together now. It gets very couple-y. We're sort of finding our couple feet and the story is going to take us into finding Chuck's mother."
Bryden in Maine: Any news on this season of Chuck?
One more tidbit: Armand Assante will be back on Chuck this season as Alejandro Goya, the king premier of Costa-Gravas, but this time he's bringing his woman with him! Yep, look for Mrs. Goya to appear in episode four; producers are hoping to find a major name to play the part. (Any chance they could get Salma Hayek for the gig?)
Deirdre: Please, how about some scoop on James Tupper, Meredith-Derek, Cristina-Owen or Lexie-Alex? I'll take anything on Grey's Anatomy?!
Hearing some pretty amazeballs things about the new season! I think you guys are gonna dig it. Word is, three of the Seattle Gracers may be held back from surgery after the traumatic events of the season finale. It's definitely gonna leave a mark. But thankfully the yumminess that is James Tupper will be there to help pick up the pieces. I'm also hearing Lexie will be suffering from some serious PTSD, so that's probably gonna leave a mark on any on current romantic entanglements.
On 90210, can you say who the guy who is going to come out of the closet is? Will he have a love interest? Also, what's up with the rapist teacher guy? Is he out?
No, I can't name the gay character (sorry—I'm glad you asked, but I can't tell!) but I can tell you he definitely will have a love interest, and actor Kyle Riabko has been cast to fill the tole. As for Mr. Cannon, I'm told he'll be Silver's senior advisor. Dun dun dun.
Brandon: Anything else on 90210?
How about an Entourage-ish crossover? Naomi is going throw a crazy-lavish 18th birthday party early in the season and Adrian Grenier's band Honey Brothers has officially been named the house band. Pretty cool, huh?
Kevin Perkins / Gaz Shirley, PacificCoastNews.com
Dana in N.M.: So Huddy wasn't the couple getting married in your blind item. Is anything good happening with those two on House?
Three words: Huddy. Hot. Sex. Don't believe us? Feast your pretty peepers on House's new season-seven promo. Is that proof enough for ya?
Riley in East Islip, N.Y.: I'm not leaving here until I get some Modern Family scoop!
Alright fine, if you insist. We just caught up with Eric Stonestreet who teased that an annual vacation episode each season may just be in the works after the über-hilarious trip to Hawaii. "I think it'd be a nice tradition to start off that the viewing public can go on vacation with us everywhere some year," Eric tells us. "There's been talk of things, but nothing set in stone." Now we're dying to see the MF crew hit Gloria's old stomping grounds in Colombia.
Rebecca in Anaheim, Calif.: Will we see more of Mitchell and Claire's hilarious figure skating team "Fire and Nice"?
Actually, we are going to learn something about Mitchell's childhood that is (dare we say it?) even better than the Pritchett siblings' figure skating past. Are you ready? Drumroll, please... "You learn that I was a child actor," dishes Jesse Tyler Ferguson. Best. Storyline. Ever. Also, Claire and Phil's middle daughter Alex enters the world of tween romance/heartbreak in upcoming episode called "First Kiss," but does the kissage actually happen? Hmm…
Matt: Give us some goods on True Blood! This season is better than ever.
Keep your eyes on Arlene (Carrie Preston). According to her real-life hubby Michael Emerson, he's "glad she's able to be the one human story this season so far, because there needs to be a human element." But he warns us ominously: "She's going to have some superhuman challenges coming up." D'oh! BTW, Michael told me more Lost fans now than ever are coming up and want to talk about the show, because they want to know what he thought of the finale. His verdict: "Carrie and I were very moved by the Lost finale, but we had to talk about it for a few days before we really sorted it all out in a satisfactory way."
Heather: Anything on True Blood? Will Joe Manganiello be back on One Tree Hill at all?
He told us he'd love to, and he has the space in his schedule, but I'm told there's no talk right now of him returning, sorry! But at least you get to seen him scantily clad in an upcoming ep of True Blood…Which some of you probably won't hate.
Bentley in Georgetown, D.C.: Will Dan Byrd be back on Cougar Town now that his character is going off to college?
We'll let Cougar Town boss man Bill Lawrence field this little question: "Travis is at TV College, come on! TV College is twenty minutes away!" Got it? "We had him going to a local school just so he can walk into any scene without us having to explain it," Bill laughs. Also, keep an eye out for Travie-Poo to move back home full-time in the not so distant future.
Frederick M. Brown/Getty Images
Zach in Santa Clara, Calif.: What is the deal with the two universes on Fringe and what does it mean for Joshua Jackson that Peter doesn't have an alternate?
You can file this under no good, very bad news: Josh is only in every other episode. The artist formerly known as Pacey Witter himself told us he isn't in the season premiere and he's not in any of the odd-numbered episodes. Blasphemy! Why are the powers that be doing this to us, you ask? We spoke with his co-star Lance Reddick who spilled that, "Every other episode is going to be either one universe or the other. So, they're going to be alternating universes at least for the first half of the season." On the bright side, at least Josh now has more time to plan next year's Pacey-Con, and that upcoming guest stint on The Vampire Diaries.
Shane in Pittsburgh, Pa.: Will Jenna finally find out the truth about vampires on The Vampire Diaries?
Nope, you can expect Aunt Jenna to remain blissfully unaware of the supernatural happenings in Mystic Falls, at least for now. How can that be when she was in the house while Katherine was chopping off Uncle John's fingers and Jeremy was upstairs downing blood and pills? Executive producer Julie Plec tells us, "We'll learn in the first episode that she was actually out talking to the fire marshal. Katherine actually lured Jenna out of the house before all the craziness happened." Finger slicing aside, that Katherine seems like a fine young lady, no?
Beth in Phoenix, Ariz.: Got any scoop on TVD's flashback episodes?
We have three tidbits about the three, possibly four, planned walks down the Salvatore brothers' memory lane:
We chatted with Bianca Lawson, a.k.a. the original Bennett witch, who spilled that "Emily Bennett's coming back to maybe be a good witch, maybe be bad witch." Maybe we'll finally see her make the deal with the devil himself, Damon, which sealed the vamps in the tomb?
When we spoke with Kevin Williamson at Comic-Con he confirmed that we will be seeing some of season one's dearly departed via flashbacks. Our fingers are crossed for the return of fan favorite Anna.
Expect to learn about a lot more about the infamous Katherine. Williamson teased, "Why wasn't she in the tomb? How did she escape? Where did she go? Why did she come to Mystic Falls to begin with? What brought her to Mystic Falls? There's all those fun questions that we're gonna explore."
Jacqueline in Arizona: Any news on Life Unexpected? I miss them!
LUX returns to the CW Sept. 14 at 9 p.m., whoo-hoo, and the title character, Lux herself, might be getting a new love interest later this season. Producers are looking to cast a broody musician type to romance our fave lost-and-found orphan. Sounds like bad news for Lux's former flame Bug.
Elle in Utah: Any scoop on Parenthood? I love it.
Yes, in an upcoming episode of NBC's Parenthood, Bad Lorelai, er, Sarah Braverman (Lauren Graham) meddles in Drew's love life, an initiative which not surprisingly goes horribly wrong. Ahhh...remember way back when Lauren Graham was the model of the modern mama? Good times.
Teresa in Washington, D.C.: Are we going to see any more of Henry Winkler this season on Royal Pains? Except for maybe that winery episode, he's been almost wasted as Papa Lawson.
Henry Winkler is absolutely back in a major way on Royal Pains as Eddie R. Lawson, and in fact, he's the medical patient at the center of episode 13. Actually, you better wish Hankmed good luck, because they're going to need it in this episode—not one but two Lawson loved ones are going to be a serious danger!
Nelson: I hate to admit it but I am loving Pretty Little Liars. Any scoop?
Bianca Lawson tells us: "We're gearing up to go back and unravel the rest of the mysteries and maybe find out who A is.  So get ready for even more drama. The people that you think are the bad guys may not be and people that you think are the good guys may not be. I think there might be a death....It's gonna be really good!"
Adi in Lake Havasu, Ariz.: Any dish on my fave summer guilty pleasure, Rizzoli & Isles?
Someone Jane (Angie Harmon) loves is in grave danger in episode nine.
Marnie in Pittsburgh: So who's going to become the new Chief on The Closer: Brenda or Pope?
Umm...let's just say that Major Crimes needs both of those good cops to stay in close proximity to the actual crimes.
Melody in Cleveland, Ohio: Digging Covert Affairs—but I can't decide who's supposed to be with whom! Got any idea how Annie's love life turns out?
Annie Walker (Piper Perabo) is a lucky girl! Oded Fehr, Sendhil Ramamurthy and Eion Bailey make for a superstar lineup of possible lovahs, and you can add Chris Gorham's Augie to the mix as well! Gorham says that a romance between Annie and Augie is possible "long-term story arc" for the show.

Jessica: I'm missing Ugly Betty already! Any talk of America Ferrera starring in a new series? Or Michael Urie?
Not at the moment, but I did just hear from the guys at D23, Disney's fan club, that Michael and Ana Ortiz (Hilda) will be doing a concert with some other TV peeps (including Tracie Thoms of Cold Case and Barrett Foa of NCIS: Los Angeles) on September 24 and 25 at Disneyland. You can see Ana pull a diva move (not really) about what she's singing here.
Kelly in Modesto, Calif.: Any news on the Army Wives finale? I kinda love that show—cheesy though it may be.
In classic season-finale fashion, preggo Denise goes into labor (whoo-hoo!), and there are a couple of cliffhanging career changes and an 11th-hour marriage proposal as well. Any guesses on who gets what? The Army Wives season finale airs Aug. 22 at 10 p.m. on Lifetime.
--Additional reporting by Jennifer Godwin and Megan Masters