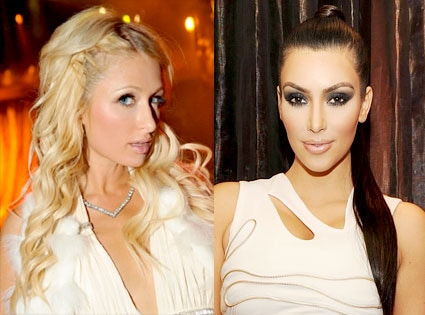 Danny Manhoney/XS Tryst Las Vegas; Denise Truscello/WireImage.com
Can you believe Kim Kardsahian and Paris Hilton used to be BFFs?
You'd never know it by the way they acted Friday night in Vegas...
Kim was celebrating Lavo's two-year anniversary with Jonathan Cheban of E!'s Spin Crowd and had dinner at the restaurant before continuing the party at the club.
Paris showed up much later after attending the Lady Gaga concert and wanted to hear some music, according to a source. And not just any music, mind you.
"She showed up after 2 a.m. hearing Kim was there and wanted to take over the party, but she just embarrassed herself wanting the deejay to play 'Stars Are Blind,'" a source tells E! News. "Everyone laughed when the deejay played it."
Another source counters that birthday boy and Lavo owner Noah Tepperberg requested the song himself and "everybody was clapping and cheering along".
Either way, after Paris' song played, Kim then took the mic and said: "Now let's hear some real music!" Meow.
The girls were at the same table but completely ignored each other.
One possible reason Paris got dissed by the Kardashian sis? Apparently, the feud between the former friends had died down—until Paris started hanging out with Kim's ex Reggie Bush after their split.
However, a source close to Paris says she was never interested in Reggie. "He is totally not her type and she would never try to date one of Kim's exes," they tell E!.
Despite the drama, both girls had nothing but good things to say about their Vegas trip on their respective Twitters.
"What a fun night in Vegas with @JonathanCheban!!! In LA already but might go back for round 2! #crazynight," Kim posted on Twitter.
"Had so much fun in Vegas this weekend!" Paris wrote on hers.