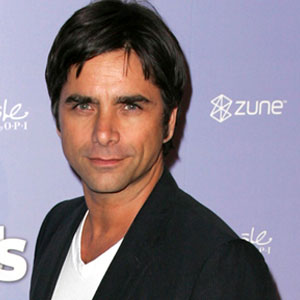 AP Photo / Neilson Barnard
Forget Thomas Jane. John Stamos was originally supposed to be Hung!
Our E! News host Ryan Seacrest just chatted up Glee's much-anticipated new guest star and although John is playing a dentist on the upcoming second season, he reveals Glee creator/boss Ryan Murphy originally had other ideas...
"Ryan [Murphy] wanted me to play a male hooker," John told Ryan on KIIS FM's "On Air With Ryan Seacrest" this morning. "I'll never forget, I was sitting in The Ivy [restaurant], [and he said], 'I've got a show for you! Male hooker, and you have sex with the guys and the girls and you fix their marriages!'" Stamos said he responded, "Get out of here, Ryan, what are you...?!"
So is this Hung-tastic storyline an idea to fix the Schuesters' marriage? Fear not, because thankfully this was an idea for another show, pre-Glee, that obviously didn't come to fruition.
"Finally we get to work together," John says of Ryan. "And so I think this one seems perfect."
John confirms that he'll be fighting for a while with Matthew Morrison over Emma (Jayma Mays) when Glee returns next month—hence the reason Will and Emma aren't the super-secret couple getting hitched—and says of the Britney Spears episode, in which he takes part: "I've seen the script, and it's really well-written. Ryan wrote it." He adds that Britney's guest spot is not yet written into the script he's seen, but "if you're a Glee fan, this episode is one of the best I've seen."
There you have it. The Uncle J endorsement!
BTW, speaking of Jayma, I hit the Paramount Studios lot (where Glee shoots) on Friday and can tell you she was filming a scene with Cory Monteith and there's some fun stuff coming up between those two. But don't worry: Strictly platonic!
________
Follow @kristindsantos on Twitter for breaking TV news and the latest on your favorite male hookers.