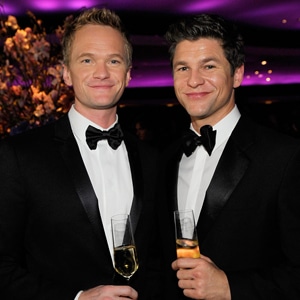 Kevork Djansezian/Getty Images
UPDATE: Harris has confirmed his babies-to-be via Twitter: "So, get this: David and I are expecting twins this fall. We're super excited/nervous/thrilled. Hoping the press can respect our privacy..."
________
Neil Patrick Harris is going to have his hands full come fall.
E! News has exclusively learned that the ubiquitous actor and his longtime partner, David Burtka, are going to become the parents of twins, via a beautiful surrogate, this October.
At least the dads are allowed to celebrate with a champagne toast!
A source tells E! that the happy couple have put baby shower plans in motion, as if Harris' chance of winning three Emmys this month wasn't already enough to celebrate!
Burtka, a chef and actor who has guest-starred on How I Met Your Mother, was just seen with his multitalented beau last weekend after Harris directed a production of Rent at the Hollywood Bowl.
And this is not the first time there's been speculation about Harris' pending fatherhood.
Star reported last year that Burtka and Harris had visited a surrogacy agency in L.A. to get the ball rolling on expanding their family. They've been together for roughly six years.
Reps for Harris have yet to return our calls for comment.
(Originally published on Aug. 14, 2010 at 8:06 a.m. PT)