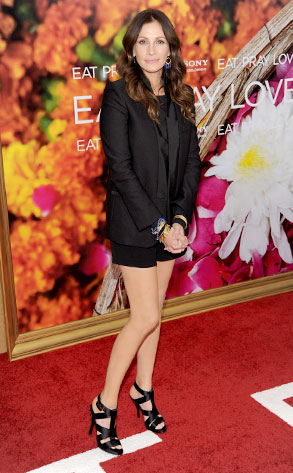 Dimitrios Kambouris/WireImage.com
Dear Ted:
Despite all attempts to open Eat Pray Love with no published reviews, enough came in under the radar to indicate it would be a real lightweight, kinda predictable flick: a little blah. Does Julia Roberts still have what it takes to open a film, or could this be an expensive middling effort no one will remember for long? Pretty scenery, nice to look at Javier Bardem, but not a whole lotta real chemistry coming from the pretty woman. Rescue kitten Little Rain sends Uncle Ted a big purr.
—RainsMom
Dear Runaway Box Office:
I don't think Julia has to worry about selling tickets—she's the definition of A-list, even if you don't agree with me (which it seems a vocal portion of you don't)—and she surely knows it too. As for being "lightweight" and "kinda predictable," um, did you see the trailer? Of course it is. The movie will do exactly what it's supposed to do, you can count on that. Purr right back to Little Rain!
Dear Ted:
After watching the Dina Lohan interview, my only thought was for Lindsay. If there is a fair universe, may she'll stay the full 90 days in rehab, and may the powers that be keep her family from visiting. How blind can you get? And how dumb do you think people are? Dina Lohan is beyond redemption. Here's hoping her daughter still has a chance.
—Rita
Dear Dina-saur:
Can you just imagine Lindsay's potential if she didn't have these two a-holes as her parents? Well, I guess she'd technically not exist at all then, but you know what I mean. They're both just awful—obviously, Dina being more horrible. And you can just forget any notion about a fair universe right now.
Dear Ted:
I'm in my death bed, blind in one eye from damage suffered due to prolonged hours reading your blog trying to figure out who Toothy Tile is (my nurse typed this email). I've given up on Toothy, but all I want from life is one night with Crotch Uh-lastic. Any chance Crotch swings a little toward the other side of the fence or might enjoy a trip there if the grass was green and fresh enough on the other side?
—Dying to Know