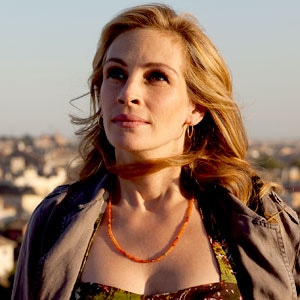 François Duhamel/Columbia Pictures
Review in a Hurry: There are fanatics of Elizabeth Gilbert's best-seller who are going to love this Julia Roberts movie no matter what—when, in fact, most of what made the book connect with so many is entirely missing here.
The Bigger Picture: At the beginning of her wildly successful memoir, Eat Pray Love, writer Elizabeth Gilbert finds herself at the end of a devastating divorce. Bereft, she decides it's time to really find herself—in Italy, India and Indonesia.
Her book set off a fierce love-hate reaction. To some readers, she was a hero who inspired round-the-world trips; to others, she came off as a woman with hysterical emotions, clingy tendencies and excruciating self-obsession.
Furor aside, girlfriend can write—and her self-indulgent subject matter was leavened with deprecation, exuberant humor and fascinating observations.
Director and cowriter Ryan Murphy (he who begat Glee) certainly knew about the book's controversy, and instead of staying true to Gilbert's foolhardy persona, he decided to make a Serious movie. The trailer shows all the funny parts—the rest of Eat Pray Love consists of Julia Roberts, one of our most vivacious actresses, gazing contentedly/wistfully/sadly out to the horizon/ocean/table full of wonderful friends she has just made in a foreign country. The goofy laugh and big smile are in hiding most of the time.
There are also changes made to the book that, ironically, water down the plot instead of bring it into focus. There's no clear inciting incident that launches Liz's nervous breakdown (indeed, in the movie she doesn't even have one), thus the stakes are low —certainly not enough to send a woman off on a yearlong trip to foreign lands.
In the book she is spinning off her axis, sobbing nightly and throwing tantrums; here, she attends cocktail parties and sheds slow, sensitive tears. She has yuppie ennui, not a midlife crisis. Murphy and cowriter Jennifer Salt fail to elaborate on her inner turmoil when they could have created clear, high-impact turning points to propel the story.
Gilbert's book is laugh-out-loud funny, as well as heartfelt. While the movie is touching in all the right ways, it doesn't leap off the screen the way Gilbert's wry voice jumps off the page. Our heroine's problems really don't seem so terrible, and you're not entertained by her character.
So ultimately, who cares why Liz is Eating, Praying, or Loving? And can she do a little Laughing while she's at it, too?
The 180—a Second Opinion: The movie is simply beautiful—how cinematographer Robert Richardson kept a permanent glow around Roberts' head is a mystery, but the guy earned his paycheck. Locations are authentic and stunning, and the cast is equally pretty, including paramours James Franco and Javier Bardem.