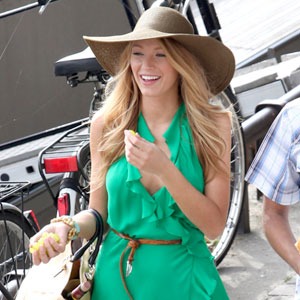 PacificCoastNews.com
Uh-oh. If certain reports are to be believed, Blake Lively hopes to leave the Upper East Side in dramatic fashion. So is our girl Serena van der Woodsen doomed because Blake wants to ditch her TV show in favor of a movie career?!
Here's the scoop on Serena's alleged swan song, plus the inside scoop on this story from the big boss at Gossip Girl:
According to Heat magazine by way of the TV NZ blog, Lively is trying to persuade Gossip Girl producers to kill off her character in a sweeps-worthy event episode: "Serena's been the show's most dramatic character, and Blake thinks she deserves a fitting exit. Execs aren't convinced they'll let her go but ideas have been thrown around. Suicide is one, though it's likely to be an accident."
Per the report, Blake is not only sick of behind-the-scenes Gossip Girl cast drama but believes that continuing on a television series "doesn't fit her future plans." (If the mag is to be believed, Lively's future plans include becoming a big-screen star, as she appears in the upcoming Green Lantern movie, which made a splash at Comic-Con.)
But we've got bad news if you're on Team Jenny and therefore have reason to hope this news is true: Gossip Girl's Serena is here to stay!
As a matter of fact, normally tight-lipped Gossip Girl executive producer Josh Schwartz was so taken aback by the false rumors that he hit Twitter to clear things up. "Have to respond," he wrote just a few hours ago. "No truth to rumors that BL requested to have Serena killed. All is well. GG S4 back on 9/13."
And there you have it: Blake's sticking around!
Do you have faith that Serena will survive, or do you suspect there's some truth to this tale? Fill us in below.
________
Be sure to follow @kristindsantos on Twitter for more scoopy TV fun.