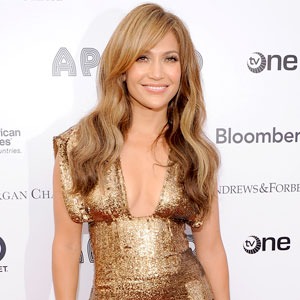 Jemal Countess/Getty Images
Wow. Has Jennifer Lopez been eliminated by American Idol before she ever even took her seat on the judges' panel? Not even William Hung got the hook so fast!
Lopez was reportedly a candidate to join Idol as a replacement for Simon (and most likely also Kara) but talks have quite possibly collapsed. Here's the latest:
According to a People.com source, plans to hook up Jenny from the Block with American Idol collapsed because—wait for it—J.Lo is kind of a diva. According to the source, "Her demands got out of hand...Fox had just had enough."
Network Fox and production company Fremantle Media both replied to request for comment with a big, fat...wait for it..."No comment."
American Idol seems to be having a hard time getting butts in seats at that judges' table. After letting go of Paula Abdul, and losing Simon Cowell  and Ellen DeGeneres, only original judge Randy Jackson is rumored to be sticking around. Fox had hoped to have contracts in place before meeting with reporters at least week's Press Tour, but told us that no deals were in place yet.
 Kara DioGuardi also reportedly has been let go, and according to her dad, New York state politician Joe DioGuardi, she's not totally thrilled with how it's been handled so far. He told Capital Tonight,  "Would you believe that she did not hear and still has not heard anything? She read it the way you did and I did. In fact, her disappointment is that's the way she's being treated, and she feels that's not proper."
Now with So You Think You Can Dance's Nigel Lythgoe back on as an executive producer, perhaps he can give her a courtesy call?
As Randy Jackson told us last week, "The only thing that's for sure [about the upcoming 10th season] is Ryan [Seacrest]. Nothing has been decided...If Jennifer Lopez is a judge I would be very happy. I love her." Somewhere, a dawg is howling with sadness.
Did you think Lopez and Idol were a good match? Are you disappointed by this turn of events, or do you prefer your Lopez recording albums and shooting movies?
_______
Follow @KristinDSantos on Twitter and get all the latest TV news!