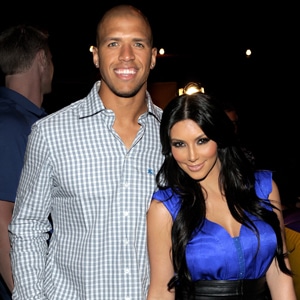 Charley Gallay/Getty Images
In case you need another reason to tune into the new season of Keeping Up With the Kardashians—psst, premiering Aug. 22 at 10 p.m. on E!—fans will get to see Kim Kardashian being romanced by a brand-new pro footballer beau! Despite a source who said he wouldn't be on the show, Miles Austin does indeed appear in season five of the hit series.
And even though cameras captured their steamy kiss on the Fourth of July weekend, Kim told me she's taking it slow with her Dallas Cowboy.
But she did confess that they're "definitely dating"...
"He's in the middle of his football season and he's focused and I'm just trying to have fun and take everything really slow," she said of their current relationship status.
As for whether she'll be making more trips to Dallas to visit Miles, Kim played coy, saying: "It depends. My schedule is really hectic." But a source tells E! News that she's planning to head south next week for another visit.
Kim also says her mom Kris Jenner is more concerned with her landing a man than she is.
"I think she's really anxious and probably way more anxious than I am for me to settle down," the 29-year-old explained. "At my age, she already had four kids...I don't feel any pressure. Now is the one time in my life I can be 100% selfish. I'm not married; I don't have kids; I can focus on my career."
But Kim already knows she wants a big family one day.
"I definitely want kids and I want four kids, for sure," she tells me. "But I need to find a husband first!"